What do you get when you stick an avid crime fiction reader in a room full of some of the most exceptional crime writers?  One happy CrimeBookJunkie – that's what!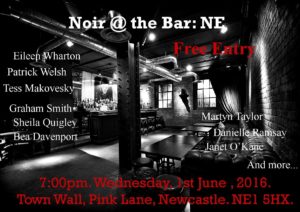 Have you ever had that feeling where you want to pinch yourself just to check that where you are and what you are doing is actually happening?  On June 1st 2016 that is EXACTLY how I felt!  There I was in Newcastle, #Fangirling in a room full of THE most exceptional but maybe not so well known crime writers ~ drinking, chatting books and listening to short stories or excerpts from chapters of books they have written.  The event was Noir At The Bar NE and it was hosted by the wonderful Victoria Watson and Newcastle Noir Royalty Jacky Collins!!!
A few weeks back, Victoria did a Guest Post for me explaining a little about the event itself and it is well worth the read: https://crimebookjunkie.co.uk/2016/05/noir-at-the-bar-north-east-by-vic-watson/
Victoria also runs Creative Writing sessions as well as doing proofreading and editing work. Her website is www.elementaryvwatson.com and my blog is www.elementaryvwatson.wordpress.com
Victoria has won awards for her own writing and has a novel in progress which she really must get back to!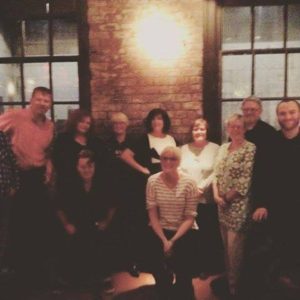 The atmosphere was electric – the room itself was big enough so you did not feel cramped but small enough to have an intimate feel – like it was just YOU in the room being spoken/read to by the most amazing crime writers.  I am still buzzing from the night!
I think each and every one of these authors deserves a BIG shout out as they are so talented –You NEED to be reading their books!  I have added a few more to Mount St TBR after this event and cannot wait to get stuck in!
Names were pulled from a hat on the night so that each of the authors were randomly chosen.  First up was Janet O'Kane.
Janet read from her first novel No Stranger To Death and you can find out more about her and her books on her Amazon Author page
Next up was the absolutely hilarious and lovely Eileen Wharton – but don't let that smile fool you….she writes about some pretty dark stuff!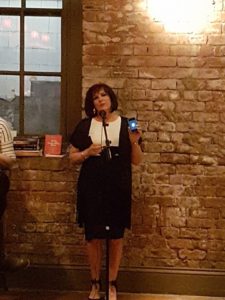 Eileen shared a chapter from her recently published crime novel Blanket of Blood. I was lucky enough to read/reviewthis book and gave it a whopping 4 stars! Check out her Amazon Author page for more info on all her books! Amazon Author Page Eileen Wharton
Danielle Ramsay was called up to the mike next and blew me away with her reading from the prologue of The Puppet Maker, the fifth book in the #JackBrady series.  You can find out more about Danielle on her website: Danielle Ramsay Website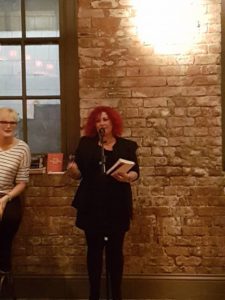 Another #NewAuthorForMe was Martyn Taylor who has 3 e-books, Monkey See a supernatural noir thriller set on Tyneside from White Wolf, Gallasill a ghostly thriller set in Northumberland and The Price of Everything a nasty supernatural thriller set in Northumberland -all on Amazon. On the night, he read a brilliant excerpt from Whitechapel, a left field look at Jack the Ripper. He is currently working on a ghost story set on the Northumberland coast and also coming soon is  Happyland, a story of family secrets and there being more to life than dreamed of in most of our philosophies!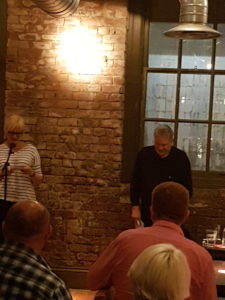 I nearly fell off my chair when GJ Brown got up to read EBGDEA.  I am attending Bloody Scotland this year and was lucky enough to be chosen as a reader, so to be this close to a writer who is integral as a co-founder to the Bloody Scotland Crimefest ….well OMFG #bookjunkies…it was pretty freakin' awesome! Be sure to check out his Gordon Brown Amazon Author page .  I have MeltDown and Catalyst on my TBR!!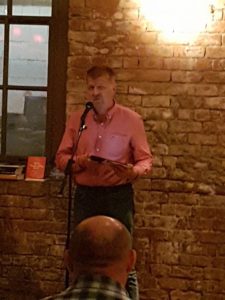 One of my faves then took center stage…no special treatment…ok, maybe just a 'lil bit…as this guy ROCKS!   It was Graham Smith, author of one of my Top Reads of 2015 Snatched From Home.  Graham read a short story called All A Broad from the Harry Charters' Chronicles and it fit the noir theme perfectly!  Graham played an integral role in starting up the Noir At The Bar events with his Fellow crime writers in Carlisle.   Graham can be found on Facebook Graham Smith Author Page , Twitter- Graham Smith  and you can check out all his books (every single one of which I have read — HUGE FAN) on Graham Smith Amazon Author page . Graham and his fellow authors Matt Hilton and Mike Craven — known as CrimeInkCorporated were integral to the Noir In The Bar start up, running an event in Carlisle earlier this year which was a HUGE success!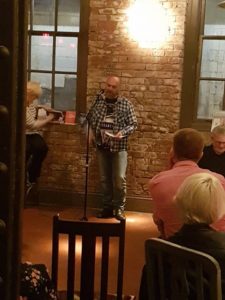 Patrick Welsh then stepped up to the mike and read a brilliant short story The Witch's Delight which can be found here: https://pbewelsh.wordpress.com/2016/06/02/the-witchs-delight/.  You can also follow/contact Patrick via these links:
An email address at patrickwelsh11@gmail.com,  Twitter and his Blog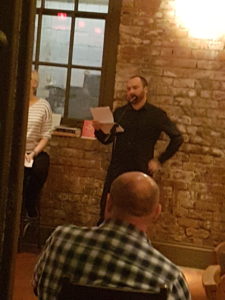 Excitement again took hold of me when the absolutely cracking Sheila Quigley stood up and read from The Sound of Silence, book 7 in The Seahills Series! I was blown away to say the least!  Check out all of  Sheila's books on Sheila Quigley Amazon Author Page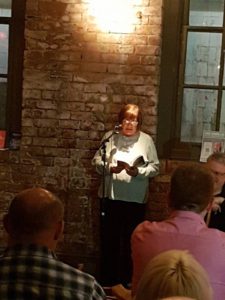 The end was soon drawing to a close with only two more crime author's to go.  Zoe Sharp …well what can I say….this woman rocks!  She read a short story called Risk Assessment  which absolutely blew my mind.  So much so, I have just bought two of her books to get myself started…a new author to stalk…I mean follow…lol!  Fantastic!! You can find out more about Zoe and her books here: www.ZoeSharp.com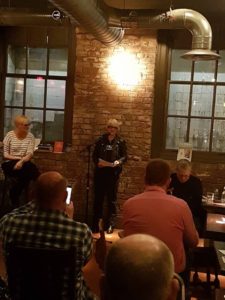 Tess Makovesky was supposed to attend, but had an unfortunate accident which allowed Zoe Sharp to step in…I will just leave that with you….lol…For more about Tess, check out her website: www.tessmakovesky.com
The final reading of the night came from the WIld Card choice.  Jackie Baldwin was that lucky writer and she read the prologue from her debut crime novel, 'Dead Man's Prayer' which is being published by Killer Reads in August and is set in Dumfries, SW Scotland. Really looking forward to that!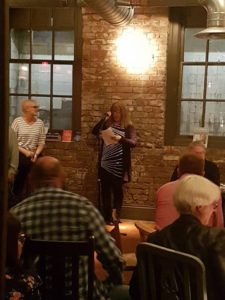 As the readings came to an end, my heart was still racing, adrenaline flowing and #Fangirling at full speed as I then got to meet/ chat with Howard Linskey, Helen Cadbury, Nicky Black, Babs Morton and so many other amazing authors and readers.  The Noir at The Bar Events will be popping up in various areas – Newcastle again in Sept, Carlisle in the Autumn and I heard a buzz that we may even see one in Harrogate this year!! Now that woukd be superb!!  You need to check these out #bookjunkies as five days later…I am still in CrimeBookJunkie Heaven!