Claire has been a wee busy bee lately and has shared another one of her reviews following a review request from the lovely Steven Hayward.  So let's check out Claire's review of Jammed Up!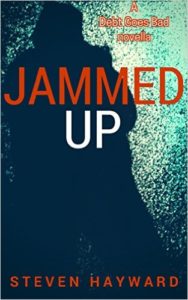 Synopsis:
Loyalty. Betrayal. Injustice.
A rudeboy never forgets. It's been ten long years and 'Jam' has been working his way through a list of men who tormented his best-friend, Jabba. Now there's only one name left to cross off…
When he takes an easy lookout job for criminal entrepreneur, Herbert Long, he knows something's not quite right. Knock-off gear and bent coppers have never been his bag, but the money's good and he doesn't want to live with his aunt forever. All he has to do is get down to the depot, watch a handover and report back what he sees. Little does he know what he's getting himself and Jabba in to.
He's not the only one nervous about the deal, DI Terence Pinner needs this to go off smoothly to settle a debt that has him enslaved to South London gangster Raymond Riggs. But with so many people involved and serious money at stake, things get messy very quickly.
Out of his depth and up against an organised criminal gang, Jam has to learn fast to stay alive. But if there's one thing that keeps him going, it's thoughts of sweet revenge…
Claire's Rating: 3.5/5
Claire's Review: 
Jammed up is a story of settling scores….personal and professional.
I have to admit I struggled with the book, took two attempts to read it. The start introduced all the characters (obviously) but because there were a lot of characters, it wasn't the sort of story start I could pick up and put down as I often need with two little monkeys (human not primate) to look after.
I personally didn't like the "street" dialect; I had to re-read it on occasion to make sense of it.  But it fitted the characters of Jam and Jabba.
At the end I felt there were too many unanswered questions.  I was left wanting closure in certain threads that the author had woven into the story.
Saying all this, it isn't a bad read. Once I got past the introduction of the masses and got used to the street dialect, I enjoyed the action and the rapport between Jam, Siobhan and Herb.
A big thank you to Steven Hayward and CrimeBookJunkie for my copy of Jammed Up in return for my honest review.
Thanks Claire!  For those of you interested in reading Jammed Up, just click on the link below!
[amazon template=iframe image&asin=B01F3VC49A]