What a way to start the weekend!  My lil star, Claire Knight, has reviewed Dear Amy by Helen Callaghan!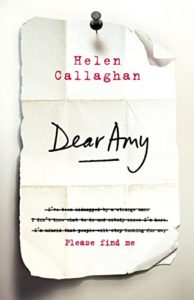 Synopsis:
Margot Lewis is the agony aunt for The Cambridge Examiner. Her advice column, Dear Amy, gets all kinds of letters – but none like the one she's just received:
Dear Amy,
I don't know where I am. I've been kidnapped and am being held prisoner by a strange man. I'm afraid he'll kill me.
Please help me soon,
Bethan Avery
Bethan Avery has been missing for years. This is surely some cruel hoax. But, as more letters arrive, they contain information that was never made public. How is this happening? Answering this question will cost Margot everything . . .
Claire's Rating: 4/5
Claire's Review: 
"Wise men speak when they have something to say; fools speak when they have to say something." How true is that phrase? I can think of many this applies to…and not just men!!
Dear Amy came up as one of THE books to read this summer – a debut to watch according to Deadgood Books so I knew I wanted to read. So I was made up when the publisher approved my request through Netgalley.
Helen Callaghan definitely has a way with words. The way she described the head nun Mother Cecilia as a "female Gandalf" with a "hothouse brain" and "alchemy wizardry" conjures up such an image of the character.
The first half story is sinister at points but not a goose-bump chilling thriller; but as the story unfolds, it gets darker, the tension builds and the twists start to appear.
Helen Callaghan's debut is a brilliant read that keeps you guessing all the way. I did question and mistrust a number of characters throughout the story.
Big thank you to Penguin UK, Michael Joseph and Netgalley for sending me an advanced copy of Dear Amy in return for my unbiased review.
Great review for what sounds like a pretty great read.  Click the link below for your copy of this book! 
[amazon template=iframe image&asin=B019DD8CPE]