Eeeeeeeeek #bookjunkies!  I cannot believe that CrimeBookJunkie is a year old TODAY!!  A huge shout-out to the #BlogSquad, fellow bloggers and all the wonderful authors who have supported my blog and allowed me and my awesome Guest Reviewers, Claire Knight & Scottydog to read/review your amazing books!! And a special thanks to my mentor and a lovely lady (a term I use loosely ha ha) Katherine Everett of Best Crime Books and More who gave me my first taste of blogging as a Guest Reviewer and encouraged me to go it alone! #BigKisses ?
So in order to celebrate, the absolutely astounding Conrad Jones has offered FIVE signed copies of his book: Thr3e!!!!  Can you believe it!?! My review is below and for a chance to win, all you need to do is comment on this post!  Names will be drawn on Friday at 7:30pm!  So check out what you could be getting #bookjunkies! …..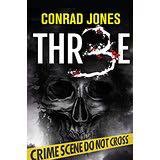 Synopsis: 
The Major Investigation Team are called to an abandoned mill when an ambitious reporter stumbles upon more than she bargained for. The investigation uncovers the most evil of criminal networks and it becomes clear that absolutely no one is safe from its wrath…
My Rating: 5/5
My Review: 
Many thanks to the author for an ARC of this book in exchange for an honest review.
First off, I have to say that I love the cover of this book!  The colours, graphics and feel of the cover drew me to it instantly.
I really enjoyed this book with its gripping plot that takes the reader on a gruesome but thrilling journey through the world of drugs, gangs, and human trafficking.  Even though this is Book 7 in the Detective Alec Ramsay series, it could easily be read and enjoyed as a stand-alone.
Justice, revenge and betrayal are just but a few of the themes you can find embedded in this story.  The characters are well written and really draw you in.  Annie and Stirling were two characters that particularly piqued my interest. Detective Alec Ramsay did not make an appearance until later in the story so the focus was on the other key players of the Major Investigation Team.  Andris and Ivor Markevica were creepy, manipulative, and Andris in particular really made my skin crawl. Letva was also quite scary and extremely stealthy in his ways. Not a man you want to p*ss off!  And Antonia (Toni) was a great character.  She was taken through the mill in this story and at times her experience was so real I felt like I was right there with her!
A mix of PCP and Ketamine made the drug #Zombie in this story and it was aptly named.  That concoction alone would leave the user messed up beyond belief!  The notorious and seedy drug underworld, filled with corruption and destruction was well thought out and completely believable.
There were some cracking and shocking twists in this book and for fans of the Alec Ramsay series, I think you will be really surprised!! It was a real page turner and once I started, I struggled to put it down.  Would I recommend this book?  Hell yeah I would!  In fact, I have added the series to my TBR as I would like to find out where it all started!
This gruesome, thrilling and absolutely action packed book is definitely worth checking out!  Click the link below if you are interested and be sure to enter the competition for your chance to win one of five SIGNED copies from Mr Conrad Jones!!  All you need to do is comment below.  Good luck #bookjunkies and thanks so much to Conrad Jones not only for his generosity but also for a really great read!
[amazon template=iframe image&asin=B018CXQVZ4]