Today I have another cracking review from my lil' star Guest Reviewer, Claire Knight.  She shares her thoughts on Sue Fortin's The Girl Who Lied.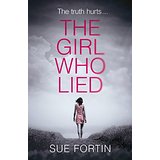 Synopsis: 
The truth hurts…
Erin and Roisin were once friends until a fatal accident ruined both their lives. Now, Roisin has discovered a secret—one Erin has kept for over a decade—and she's determined to make Erin pay for her lies.
Erin wants nothing to do with Roisin. She has a new life in London and no intention of going back home. Yet when her father is mysteriously and critically injured, Erin has no choice but to return and face Roisin—and her past. Erin knows if the secret of what she gave up got out, the consequences could be devastating.
When Roisin suddenly disappears, suspicion soon lands on Erin. She would do anything to protect her family, but just how far is she willing to go when time is running out…?
Claire's Rating: 4/5
Claire's Review:
"The Girl Who Lied" is the story of two young women, one desperate to keep a secret locked in the past and the other hell-bent on unearthing the truth at any cost; but how far will she go?
When I started the story, I was hit by instant intrigue. What does Roisin want? What happened to Erin's dad and what happened to make Erin leave Rossway? As the story unfolded, there were snippets as to what happened in the past which feed the events in the present. The perspective of the story changed depending on the character; it jumps from the first person with Erin to the third person for all the other characters but Erin's role isn't in the first person when the focus is on one of the other characters. It's an unusual way of writing in my opinion but it was easy to follow.
The nature of "The Girl Who Lied" reminded me of domestic thriller authors such as Liane Moriarty or Laura Elliot. It's got suspense, intrigue and plenty of emotion. So much emotion, I had a lump in my throat as I read the final chapters.
Whilst reading "The Girl Who Lied" I downloaded "Closing In", another of Sue Fortin's books. Amazon describe this offering as a psychological thriller; "The Girl Who Lied" is at the lighter end of the psychological thriller scale – I've read some tales that are uncomfortable and mess with your head. This book would appeal to those who want more bite to their chick lit and romance stories.
Many thanks to Sue Fortin for giving me an advanced copy of this ebook in return for my unbiased review. I'll definitely be reading more from this author!
Thanks Claire for another awesome review!!  I don't know about you #bookjunkies, but I love the cover of this book and then reading this review–I think I am going to have to add this to Mount St TBR!!  Click the link below if this book takes your fancy too!
[amazon template=iframe image&asin=B01CH72PLU]