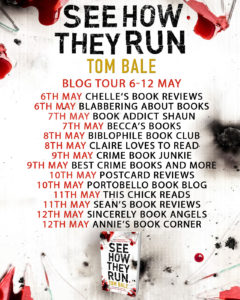 You have no idea how absolutely thrilled I am that my Guest Reviewer, Claire Knight, has broken her #BlogTourCherry by hosting the absolutely amazing Tom Bale on CrimeBookJunkie for the See How They Run Blog Tour!! I had the privilege of meeting Mr Bale at an Author/Blogger event organised by Kim Nash from BookOuture a week ago and he was lovely!  So I am more than honoured to have been asked to take part in promoting what sounds like an incredible read!  A little blurb about Mr Bale and then it is over to Claire for her thoughts on the book!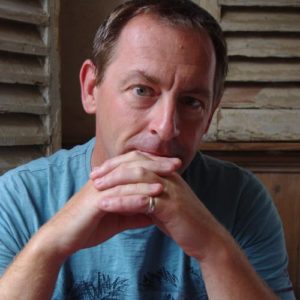 About Tom Bale:
Tom Bale decided that he wanted to be an author from the age of seven but, after another career got in the way, it wasn't until much later that his dream was fulfilled. After several books with Random House, Tom signed with Bookouture for two stunning 'everyman' thrillers.
Tom Bale Website http://www.tombale.net/
Tom Bale Twitter http://www.twitter.com/t0mbale
Tom Bale Facebook http://www.facebook.com/tombalewriter
Synopsis:
How far would you go to save your family?
In the dead of night, new parents Alice and Harry French are plunged into their worst nightmare when they wake to find masked men in their bedroom. Men ruthless enough to threaten their baby daughter, Evie.
This is no burglary gone wrong.
The intruders know who they're looking for – a man called Edward Renshaw.
And they are prepared to kill to get to him.
When the men leave empty handed, little do Alice and Harry realise that their nightmare is just beginning. Is it a case of mistaken identity? Who is Renshaw? And what is he hiding?
One thing is clear – they already know too much.
As Alice and Harry are separated in the run for their lives, there is no time to breathe in their fight to be reunited. And with their attackers closing in, there is only one choice:
STAY ALIVE. OR DON'T.
Claire's Rating: 5/5
Claire's Review: 
New parents Harry and Alice, a special effects master and a dental hygienist on maternity leave, are thrown into a dark and twisted world they never expected to be entangled in when one night two men break into their house demanding information about a man they've never heard of and threatening the lives of the couple and their 8 week old baby.
I was not prepared for the horror of the first chapter…I had palpitations as I read the first dozen pages and I was in a slight state of shock for a little while after!! Thankfully it didn't continue quite in that vein – I'd have been having a heart attack by the end of chapter 3!! Don't get me wrong, the book doesn't slow down that much but it calmed enough for me to catch my breath before the next onslaught of revelations and action.
At times it was difficult to know who the good guys are or rather the not-so-bad guys were. The way the story is written, you distrust all and then something happens to make you doubt yourself!
When Noelle asked me to "host" her stop on the Tom Bale blog tour, I thought I recognised the name…off to Amazon I toddled and yup, there See How They Run was sat waiting on pre-order. Good start I thought! Then I spotted the publisher was Bookouture, another box got ticked. Since I discovered Bookouture last year when I read Angie Marsons' debut Silent Scream, I have loved every novel I have read that they've published. As well as the aforementioned Ms Marsons' three (soon to be four) crime thrillers (I love Kim Stone), I've loved Caroline Mitchell's DC Jennifer Knight series, the suspense thrillers of Laura Elliot and not forgetting Marcie Steele's books. Tom Bale is now another I can add to the list of the cracking authors Bookouture have signed. But I'll stop with the ode to Bookouture.
Tom Bale is a brilliant new author (to me anyway) and See How They Run is equally brilliant. Plenty of gasp moments and I was kept guessing and desperate to know how Harry, Alice and Evie were going to get out of their predicament!
Massive thanks to Bookouture and Netgalley for giving me a copy of See How They Run in return for my unbiased review and a whopping bear hug to Noelle for letting me fly solo on this blog tour!
Awwww!  I am feeling the love Claire bear!  You smashed it!!  And #bookjunkies….you do NOT want to miss out!   I can almost  See How They Run on over to amazon to grab themselves a copy of what sounds like an absolutely cracking read!!  See what I did there! ?
[amazon template=iframe image&asin=B01D25LZD0]