Woohoo #bookjunkies!  My 'lil star, Claire Knight, is hosting the brilliant Angela Marsons Play Dead Blog Tour today!  Huge thanks to Bookouture and the author for the opportunity!  Over to Claire now for her awesome review!!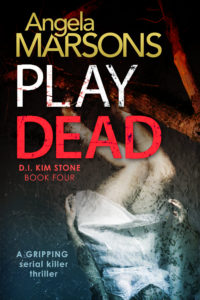 Synopsis: 
The girl's smashed-in face stared unseeing up to the blue sky, soil spilling out of her mouth. A hundred flies hovered above the bloodied mess.
Westerley research facility is not for the faint-hearted. A 'body farm' investigating human decomposition, its inhabitants are corpses in various states of decay. But when Detective Kim Stone and her team discover the fresh body of a young woman, it seems a killer has discovered the perfect cover to bury their crime.
Then a second girl is attacked and left for dead, her body drugged and mouth filled with soil. It's clear to Stone and the team that a serial killer is at work – but just how many bodies will they uncover? And who is next?
As local reporter, Tracy Frost, disappears, the stakes are raised. The past seems to hold the key to the killer's secrets – but can Kim uncover the truth before a twisted, damaged mind claims another victim …?
Claire's Rating: 5/5
Claire's Review: 
Ever since I discovered Angie Marsons last year when Silent Scream came out, I've been left wanting more from Kim Stone. It's like an addiction! This time round I was quite impressed with myself, I lasted a week with Play Dead sat on my kindle calling me to read it. It was definitely worth the wait. I thought Silent Scream was excellent and then I read Evil Games which topped it with the down right villainous Alexandra Thorne. Lost Girls left me reeling with the race against the clock to find two kidnapped young girls. But Play Dead takes a different tack with bodies appearing on a research facility aka the body farm, the place you'd expect to see dead bodies just lying around. Kim and the team need to find out who and why before the next victim meets a similar fate.
I think I have a bit of a girl crush on Kim Stone. Yes I know she is a fictional character made up by Angie Marsons but she is the ultimate crime fighting woman: gets stuck in, not afraid to speak her mind, doesn't care what others think and gets the job done no matter what.
I love the banter Kim has with Tracy Frost, a thorn in Kim's side but a necessary adversary in the fight against the criminals of the Black Country. In previous investigations Tracy has been a bit part, winding up Kim when she can and trying to get ahead in her career. But this time round, Tracy has more of a principle role but if I say any more I'll spoil the story!
All I can say is, Angie please keep writing about Kim Stone and her crew. Please, please please (with a cherry on top)!! I know I'm not the only one who loves your books. So as long as you love writing about Kim, we'll keep reading them!
A huge thank you to Bookouture and Netgalley for giving me this ebook in return for my unbiased opinion and an even bigger one to Noelle for letting me run the show on the CrimeBookJunkie stop of the Play Dead blog tour.
Wow!  What an awesome review!  Huge thanks to Claire, Angela Marsons and Kim Nash of Bookouture.  I cannot wait to read my copy of Play Dead now!  Click the link below to get yourselves a fix of the fabulous #KimStone! 
[amazon template=iframe image&asin=B01D3TD9VQ]