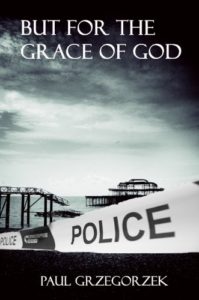 Synopsis:
Life is about choices, those already made and those yet to come.
For John Cooper, more than most, this is especially true. Lost, hopeless and alone, he drifts through the Brighton underworld, a slave to his heroin habit and all but forgetting the man he used to be as he succumbs, dose by dose, to the drug that is both sustaining and killing him.
The only people of import in his life are Mandy, a 16 year old prostitute who he cares for like a daughter, and Phil, mid-thirties and suffering from autism, a fact that many of the local drug dealers use to their advantage as they get him to ferry drugs all over the city.
When Phil dies of a suspected overdose, however, John's long-buried instincts begin to rise to the surface. Knowing that his friend would never use drugs, he begins to investigate what he knows is a murder when the police fail to show any interest.
Unwittingly, John plunges himself and everyone around him into a murky world of drugs, violence and betrayal, all the while struggling against the addiction that consumes him.
My Rating:  ⭐️⭐️#AllTheStars ⭐️⭐️⭐ (5/5) ⭐️⭐️⭐️⭐️⭐️⭐️⭐️⭐️⭐️⭐️⭐️
My Review:
My biggest thanks EVER to the author who gave me a copy of the revised version of this book in exchange for an honest review.
EEEEEEEEEEEEEEEEK!!!! OMFG –yes–Oh My Friggin God!!  I have been waiting FOREVER to write this review and shout from the bloody rooftops about the pure genius of this book!  I first came across this author thanks to Katherine Everett of Best Crime Books and More who told me I would love When Good Men Do Nothing way back in 2013.  She was right.  So So Very Right!
So what did I do?  I purchased myself a copy of the original version of But For The Grace of God on July 25th 2014.  Guess what bookjunkies….I found my #BookSoulMate — a book I can actually say I am utterly head over heels in love with because it just got me. Got under my skin and has never left!  I was then lucky enough to get a signed copy of the original…pure treasure.  NO ONE is getting their hands on that baby!
I guess I had better talk about the actual story now!  My interest was piqued from the very first page– the prologue really sets you up for the ride you are in for.  The book is set in Brighton and although I have only been there once, the description of the setting left me feeling as if Brighton was somewhere I know inside and out!
In terms of the plot, I won't say too much as the synopsis gives you the general outline — what I will say though is that the storyline is fast paced, gripping and emotionally charged.  There are only a handful of books which stayed burned in my memory.  This is one of those books and Paul Grzegorzek is one of  those authors! Though I have to admit…I still have NO CLUE how to pronounce his last name!
It is the characters of this book that really bring the story alive and capture your heart!  Whether you love them or loathe them, they will stay with you long after you read the last line and close the book.  John Cooper …or Coop…this guy is phenomenal!  I have developed a lot of #FictionalCrushes on characters this year alone..but Coop…*sigh* ..he is "the one"….though Stephen Edger's Mark Baines is not far behind! And Graham Smiths DI Harry Evans has also found a way into my cold cold heart!  But I digress!
Cooper is in his 30's and from the moment he is mentioned, there is just something about him that grabs you.  He is not perfect, he has his demons, he is vulnerable at times but has a strength and determination that draws the reader in and does not let go. He has a genuine concern for others and two of his closest friends – Mandy (a young prostitute) and Phil (an autistic man) really show you what kind of guy Coop really is.  I also loved Hannah –she is bloody brilliant!  And I have to say, I was a little jealous of her! But she is one of the few people who trusts and believes in Coop from the start.  In fact, my all time favourite line comes from Hannah when she says "I knew you were still in there, somewhere.  Welcome back to the real world John".  Not sure why…but that line gets me every single time!  There are so many other characters to include but this will turn into a novella if I carry on.  Just trust me when I say that this author can characterize the arse off of those mentioned in his book to the point that you visualise each of them and actually think you know them!! Now that is talent!!
There are quite a few themes that adorn the pages of this book: loss, betrayal, love, friendship, justice and revenge are just a few.  It is gritty, emotional, full of twists that had me breathless at times.  And it has authenticity and realism which just makes it phenomenal.
Do I recommend you read this book?  HELL FRIGGIN' YEAH I DO!  This is one of those books I could and have read numerous times — and each time I just fell in love with this book again and again!  If you do one thing today #bookjunkies…it should involve a virtual trip to Amazon and a click on the link below!  BUY THIS BOOK!!!  And then review it…and then come back to this post and comment! …and now I can breathe….*sigh* ❤️