Another fabulous review from my awesome possum, Guest Reviewer Claire Knight.  Today she has reviewed Death by Dangerous written by Olly Jarvis.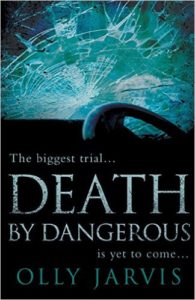 Synopsis:
Death by Dangerous is a compelling legal thriller set in Manchester and Bradford. John Anderson is one of the North West's most dedicated and successful prosecution barristers. His career is going from strength to strength and he is on the verge of becoming Queen's Counsel. But the life he once knew suddenly comes crashing down following a fatal road traffic accident… Recovering from his injuries, he has no memory of the collision. Was he responsible for the death of a child? Who was his female passenger? Facing charges of causing death by dangerous driving, the professional and personal life he once knew now lies in tatters. Depressed and taking refuge in alcohol, Anderson refuses, in the face of so many unanswered questions, to accept his guilt. He becomes convinced that the gangster he was prosecuting at the time of the crash is in some way involved. The mystery deepens as his search for the truth draws him into Manchester's sordid criminal underworld. Shunned by his former colleagues, Anderson finds help from an unlikely source, enabling him to confront his prejudices and re-evaluate his past life. He embarks on a journey of self-discovery and, ultimately, the path for his own redemption. Anderson knows that defeat means deliverance to a prison full of violent criminals he has prosecuted over the years. He now has to find the strength to fight the most important trial of his life.
Claire's Rating: 4/5
Claire's Review:
John Anderson, QC in the making, is charged with causing Death by Dangerous driving but he can't remember what happened or who the dead mystery woman in the passenger seat is? His marriage, career and freedom are on the line.
This book to start with reminded me of Silk, the BBC series with Maxine Peake, Rupert Penry-Jones and Neil Stuke.  I devoured that series last year when I was on maternity leave as it was a whole different world of the legal profession that I had experienced, having done a few stints in a local solicitors office as a teenager (I dreamt of being a solicitor at the time).  The workings of Chambers (based on my limited exposure through entertainment) appear to be very cutthroat and competitive and John Anderson's Chambers is no different.
Anderson is a highly ambitious character, determined to be the best at all costs; destroying his opponent in the court room, working all hours with minimal sleep, missing his son's football matches.  At the beginning I didn't warm to him; he was your A-typical overachiever, taking what he wants. But as the story went on, his hard exterior started to crumble to expose a man desperate to prove his innocence and find truth and justice.
I liked the fact that the story was based in the North. The story wouldn't have been out of place set against the backdrop of London but locating the story in Manchester and Bradford made it stand out from the norm. I don't purposely hunt out books set in the North but being a Leeds resident myself, I do enjoy a northern setting.
At the back of my mind I knew that this was a debut novel from a barrister but I kept forgetting as I read.  If this is Olly Jarvis' first offering, I'll be reading more from him. This legal thriller had lots of twists with each chapter uncovering another clue for Anderson and his legal team to use in his defence.
A big thank you to Olly Jarvis and Crimebookjunkie Book Blog for sending me a copy of Death by Dangerous in return for my unbiased review.
This book is on my TBR and I definitely think it needs to be bumped after that Review!  If Claire has got those legal scales tipping the balance in favour of reading this book, click on the link below!
[amazon template=iframe image&asin=B00ZAKANWA]