I reviewed this book last week and thought it would be right up Claire's street!    And I was not wrong #bookjunkies!  Here is her fabulous review of Eileen Wharton's – Blanket of Blood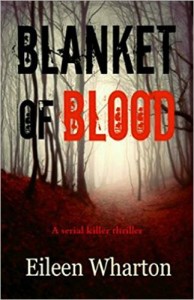 Synopsis: 
The gripping first novel in an explosive new crime series.
The body of a baby is found in the woods. But all is not as it seems…
A twisted serial killer is targeting young, pregnant girls.
Senior Investigating Officer, D.I. Gary Blood, must use all his powers of deduction to bring to justice the most sadistic murderer his force has ever seen. A killer unlike any he has hunted before. But Blood has problems of his own. Can he stop his private life interfering with the case?
To find the killer Blood needs to understand the motive. But this is a place full of secrets, where dark pasts lie buried.
Will Blood catch The Crochet Hook killer before it's too late?
The truth is closer than you think.
Blanket of Blood is the first book in a series of Gary Blood crime novels.
Claire's Rating: 4-4.5 / 5
Claire's Review: 
There is a lot packed into Blanket of Blood. I had only read a quarter of the book and I felt I should be further into the book but little did I know there was plenty in store!!
I really liked DI Blood; as with most fictional police officers, he's got baggage but this baggage is human form. An ex-wife who won't take no for an answer, a grown up child whose life choices Blood needs to come to terms with. And then there are the bodies that start appearing….
I had picked my suspect quite early in the book but as the story went on, I began to doubt myself and at points I questioned the gender of the nasty piece of work Blood and the team were tracking. But as with all good crime thrillers, there are plenty of red herrings to lead you up the garden path and confuse you!
I had to smirk at the acronym used for the Centre of Beginnings…CoB. To me, a cob is a bread roll, barm cake, bap…each area of the UK has a different name for it and for me a cob is it. A mild amusement in a dark murder story.
Considering this is the first crime novel by Eileen Wharton I am really impressed! I was kept guessing all the way through and I even re-read the unveiling of the killer to make sure I didn't miss anything. I'm yet to read the author's previous literary offering "Shit Happens" which (from what I understand) is a totally different genre but I will be reading it and the future investigations that Blood is involved in.
A massive thank you to Fred Freeman at Bloodhound Books and Crimebookjunkie Book Blog for giving me a copy of Blanket of Blood in return for my unbiased review.
Love this review Claire!  Awesome Possum!!!  Click the link below if this book piques your interest #bookjunkies!
[amazon template=iframe image&asin=B01DHUX24K]