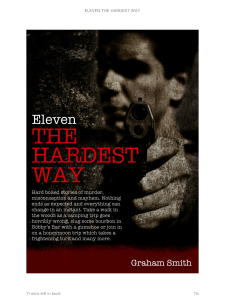 Synopsis:
11 Hard boiled stories of murder, misconception and mayhem. Nothing ends as expected. Everything can change in an instant. Tense, thrilling and funny. You'll be cheering on, laughing at and crying for the characters.
Take a walk in the woods with Annie as a camping trip goes horribly wrong, slug some bourbon in Bobby's Bar with gumshoe Leonard Peters or join Nicholas and Christine as their honeymoon trip takes a frightening turn.
Attend a night class with the girl who fears a stalker, escape killers with Jason and his sons, join Cook & Barnes as they hunt a twisted killer, look through a telescopic sight with an assassin and recoil in horror as terrorists attack.
Why has Garry been stood up at the altar? What happens to Susie? All the answers you need are in 11 The Hard Way.
My Rating: 5/5
My Review:
I have been spoiling myself this week #bookjunkies and have nearly overdosed on the first-rate writings of Mr Graham Smith!  I cannot believe I have had this collection of hard-hitting crime stories on my kindle since last year and have only now read them!  WTF was I thinking?!
Eleven The Hardest Way is a compilation of 11 short, in your face, stories that immediately engage the reader.  I have yet to come across any book where Mr Smith has not done this flawlessly.
The plot lines are executed seamlessly, taking the reader on a journey where you truly will be left with your jaw on the floor.  The emotions evoked when reading some of the stories range from shock, hysteria/laughter, to pure punch-in-the-gut fear.  Brilliant…just pure brilliance!!
Various themes run through each of the stories, such as revenge, karma-is-a-bitch and of course Hell Hath No Fury Like A Woman Scorned and the author delivers the stories from various points of view so you get a real feel for the characters through the language used and the descriptive imagery that sets each scene perfectly.
I have to say, I absolutely loved every story in this compilation, but three stood out the most for me.  Shooting Stars tells the story of an assassin and is humourous, ironic and tragic all at the same time. The Kansas Kindred Killer is not one for the faint hearted. Raw with a shock factor and the ending…well holy friggin cow…I laughed even though it was so bad…what happened, not the ending!  #PoorPoorTrey But the top story for me had to be Annie's Story. Bloody hell…this was a hard one to stomach.  The subject matter is brutal but the author really did a cracking job at bringing out so many emotions through Annie's character…it floored me.  And the ending of this story…well…it was genius!
I can, without a doubt, highly recommend that you all grab yourself a copy of this book as it has something for every die hard crime fiction lover!