My 'lil possum, Claire Knight is reviewing Jane Isaac's re-release of An Unfamiliar Murder. This is on my TBR at the moment and I am looking forward to reading it even more now!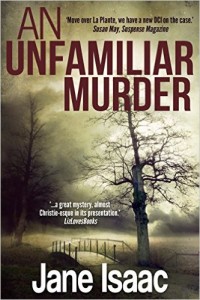 Synopsis: 
Arriving home from a routine day at work, Anna Cottrell has no idea that her life is about to change forever. But discovering the stabbed body of a stranger in her flat, then becoming prime suspect in a murder inquiry is only the beginning. Her persistent claims of innocence start to crumble when new evidence links her irrevocably with the victim…
Leading her first murder investigation, DCI Helen Lavery unravels a trail of deception, family secrets and betrayal. When people close to the Cottrell family start to disappear, Lavery is forced into a race against time. Can she catch the killer before he executes his ultimate victim?
Claire's Rating: 4.5 /5 
Claire's Review:
Anna's life is turned upside down when she returns home to find a dead body in her flat; and not someone she knows, a total stranger. From that moment on, nothing will ever be the same for her in more ways than just finding a dead body!
I really enjoyed Jane Isaac's debut novel. I actually thought this was better than "Before Its Too Late" which I read last year.
I really felt for the two lead characters. Anna flung into the centre of a murder inquiry of a man she's never heard of and every conversation she has, she uncovers another secret. DCI Helen Lavery is a single mother with two teenage boys, trying to prove herself in a male dominated world.
I felt the story really flowed with a typical police investigation uncovering clue after clue. I thought I had the culprit sussed and then no, Lavery and the team uncover something to prove me wrong!
I'll definitely be reading Jane's other DCI Lavery story, "The Truth Will Out" to see how the relationships develop and what other investigation she gets involved in. And I am looking forward to Jane's next release later this year!
Many thanks to the author for my advanced copy of "An Unfamiliar Murder" in exchange for my honest review.
Definitely sounds like a must read #bookjunkies!  Click the link below if you fancy a read!
[amazon template=iframe image&asin=B01B56N4QE]