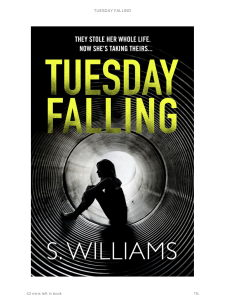 Synopsis:
You've never met anyone like Tuesday. She has suffered extreme cruelty at the hands of men, and so has taken it upon herself to seek vengeance. She wants to protect and help others like her, to ease their suffering. A force to be reckoned with, she lives beneath the streets of London in the hidden network of forgotten tunnels that honeycomb the city – and this is her preferred hunting ground.
When Tuesday is connected to a series of brutal attacks on gang members, DI Loss takes on the investigation. A burned-out detective still suffering the devastating effects of the unsolved murder of his daughter three years earlier, the case starts to hit close to home. Because soon Loss will discover that Tuesday could hold the key to uncovering the truth about what happened to his daughter…
My Rating: 5/5
My Review:
Well Holy-Bloody-Hell!! What a book!  I had come across this book on various book clubs/groups I am a member of and decided to give it a go.  At 99p (and still is by the way) there would be nothing lost if I did not actually like it.  So glad I took a chance and bagged this beauty as I tell you what…it is a definite must read!
Tuesday is not your typical protagonist.  She is an anti hero who you find yourself immediately drawn to.  A broken soul with a kick-ass drive for retribution, you cannot help but cheer her on!  She stands up for the lost, vulnerable victims –like Lilly-Rose– and dishes out her own form of justice where the system has failed.  In my mind, I pictured her as a cross between Harley Quinn (look her up if you are not a comic book fan lol) and Alice from Resident Evil.  Her weapons of choice are not conventional either and the author has a page where you can check them out! Click here for Tuesday's Weapons
A few of the other characters who struck a chord with me, were DI Loss and DS Stone.  They are tasked with solving the murders and bringing Tuesday in.  You can tell, however, they too, are torn between helping Tuesday and stopping her rampage.  Not the best predicament for coppers to find themselves in!
The chapters are short and easy to read.  Each one packed with a twist or revelation.  The text is not overtly descriptive either…you get exactly what you need to visualise the story in your mind.  Love that!
The gang members within this story are easily despised…cocky, trumped up lowlifes — those who make the law abiding members of society angry and fearful at the same time.  But when Tuesday unleashes her wrath…well I may have punched the air and screamed "Hell Yeah" a few times!  Do I condone vigilantism? Nope…but I won't lie..I did smirk/grin a few times when Tuesday was meting out her punishments!
And towards the end…well there was a bit of an emotional roller-coaster going on..no spoilers…but I did have a lump in my throat!  So if you want a kick-ass, in-your-face read which will literally grab you by the shoulders and scream in your face…YOU NEED TO READ THIS BOOK!
I highly recommend you grab yourself a copy of this book as you will not be disappointed!  And S. Williams…I cannot wait to interview you for my blog!!  One of my favourite reads of 2016!