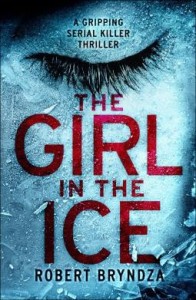 Synopsis:
Her eyes are wide open. Her lips parted as if to speak. Her dead body frozen in the ice…She is not the only one.
When a young boy discovers the body of a woman beneath a thick sheet of ice in a South London park, Detective Erika Foster is called in to lead the murder investigation.
The victim, a beautiful young socialite, appeared to have the perfect life. Yet when Erika begins to dig deeper, she starts to connect the dots between the murder and the killings of three prostitutes, all found strangled, hands bound and dumped in water around London.
What dark secrets is the girl in the ice hiding?
As Erika inches closer to uncovering the truth, the killer is closing in on Erika.
The last investigation Erika led went badly wrong… resulting in the death of her husband. With her career hanging by a thread, Erika must now battle her own personal demons as well as a killer more deadly than any she's faced before. But will she get to him before he strikes again?
My Rating: 5/5
My Review:
I received this book via Netgalley/Bookouture in exchange for an honest review.  If you are easily offended, stop here…there may be some "choice" words used to describe my sheer excitement …can't help it…that is who I am!!
So there I was bookjunkies…all happy and comfortable with my Bookouture babes ~Caroline Mitchell, Angie Marsons and Mel Sherratt..when WHOA…hold the friggin fort…who is this new author!?  A bloke!?  Bookouture have only gone and thrown Robert Bryndza into my #CrimeThriller mix!!  HELL YEAH!!
The Girl In The Ice is this author's debut crime thriller and what a debut it is!  A #KillerHook had me intrigued from the start.  And how about that cover folks!  Menacing, haunting and captivating all in one…I love it!
There is a nice build up of pace throughout the pages of this book, so you are hypnotically lulled into believing one thing, in terms of who the killer might be, and then…. BAM…oh no dear reader…you are wrong…sooooo wrong!  Nicely done Mr Bryndza!
DCI Erika Foster is an interesting character.  She came across as a bit icy at first, but this soon melts as you learn about her background…no…she is not "The Girl In The Ice" …though she did start off being quite frosty! ?. The author subtly injects a Slovakian theme within this character…which worked well and allowed the reader to get a feel for the author himself…it became relevant to Foster, the story and some of the other characters we come across.  Well played Robert!
Then there is Chief Supt. Marsh…the "boss" ~  hard-nosed on the outside but he seems to have a genuine concern for his team.  There is another side to him though that leaves you questioning his loyalty.  And what the hell is up with DCI Sparks… I wanted to b*tch-slap him a few times.  Wipe the smirk I could visualise him having right off his face– proper! His sheer dislike for Foster oozes off the pages…maybe he fancies her…or he is just an ass!  Either way…Karma comes round and I laughed…yes bookjunkies…I actually laughed…and maybe …just maybe…punched the air in a "how do you like them apples Sparks" kinda way!
And you know who else caught my eye…Isaac…the Forensic Pathologist ….warmed to him instantly…hope to see him in the next DCI Foster book…if you have left him out Robert…edit edit edit! ??  And Moss and Crane…how great are these two!!  Loyal to the core.  Love it!
Oooh and I cannot forget…"The Figure"  — I seriously thought I had guessed  the killer at various percentages throughout the book.  I changed my mind a few times. I had actually figured it out with one of my guesses…but my motive was all wrong.  However, as I was so sure my last guess was the right one…well I got a big slap upside the head when it turned out to be one of my other guesses!  Once again, well played…*takes hat off* .  And holy crap!  The last 20% of this book totally grabs you by the…well you know…and makes you scream!  In a good way!  At the pages…like any devoted reader, who delves into the story does… My neighbours must wonder about me sometimes….I don't blame them at all!
So as you can see…I didn't really like this book too much…I freakin' LOVED it! Definitely an author to watch out for bookjunkies.  Once in a while a book stops you in your tracks…this is THAT book!  What are you waiting for…BUY IT…now!!!