Well my little CrimeBookJunkie Crew have been busy this weekend writing reviews and are putting me to shame! I need to get on board the #CrimebookjunkieExpress and get some reviews posted myself!   I am not a slave-driver…really, I swear!
 Today's review comes from my 'lil Possum, Claire Knight, with the second installment of Rob Sinclair's Enemy Series.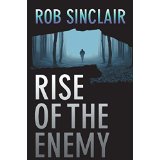 Synopsis:
Everyone has a breaking point. Carl Logan might just have found his. The Joint Intelligence Agency sends agent Carl Logan on a routine mission to Russia. It should have been simple. But when Logan's cover is blown, he's transported into a world of hell he thought he would never see again. Something is different this time, though, and before long doubts begin to surface in Logan's mind as to why the assignment went so wrong. Logan has never been short of enemies. And sometimes the enemy is closer to home than you think. Could his own people really have set him up?
Claire's Rating: 4-4.5/5
Claire's Review:
Why is Logan suggesting he'll kill Mackie? What is happening in Russia?? Who is the Enemy? Only time and 350 pages will tell!
Logan is in the less glamorous setting of a very cold Russia but his assignment has an equally hard hitting start as in Dance With the Enemy.
There are a few differences between Rise of the Enemy and its predecessor. Firstly it's written in the first person rather than the third person. I think it suits the story better particularly when Logan is going through hell. The author has Logan questioning many things and people which wouldn't work in the third person. The second difference is the chapters alternate between "now" and three months prior. In Dance With the Enemy, we alternated between Logan and the baddies. Rise of the Enemy is much more about Logan and what he's going through.
In my review for Dance With the Enemy, I said I felt I had been dropped into a Bond Movie. With Rise of the Enemy it was more sinister and psychological but still with the action thrill of its predecessor.
Rise of the Enemy is another action packed thriller by Rob Sinclair. I can't wait to read the final instalment of the Enemy series. What will happen to Logan next?
Thank you to Netgalley and Clink Street Publishing for sending me this book to read and review honestly.
Great review Claire!  I am now even more intrigued and looking forward to starting these books in the not-so-distant future!  May even have to do a bit of a TBR re-shuffle!  If you click the link below #bookjunkies, you can get your hands on a copy of Book 2 in the Enemy series.  Looking forward to your final review Claire ~ but that will be posted on my stop in the Enemy Blog Tour on February 16th!! 
[amazon template=iframe image&asin=B00TWR9RVK]