Woohoo!  My Guest Reviewer Claire is BACK with another of her fab honest reviews — this time it is for Andrew Holmes' Nobody Saw. So without further ado, let's find out her thoughts!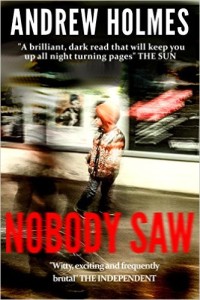 Synopsis:
Lost: one chance at redemption. Answers to the name of Ben.
Six-year-old Ben Snape was separated from his father on the platform of Finsbury Park tube station on the afternoon of Saturday, February 22. He hasn't been seen since.
On the ground floor of 64 Clarke Street lives Max, a man with a shadowy past and an increasingly troubled present, which his noisy upstairs neighbours are doing nothing to soothe. They are aspiring journalist Sophie and her boyfriend Dash, who makes a living selling sub-standard speakers from the back of a white van. But how will Dash's somewhat less than respectable occupation lead him to get inexorably tangled up in Max's mysterious plans? And what connects them both to Ben's disappearance?
Claire's Rating: 3-3.5 /5
Claire's Review:
From the description, I didn't know quite what to expect from Nobody Saw. It's a suspense story with some wide boy gangster and a bit of chick lit.
Most of the book felt like it was about Dash's predicament with Chick and the speakers. Then there is the side stories of Ben who went missing on the way to an Arsenal match with his dad and of Max, who spent time in prison and is trying to keep himself to himself but is struggling.
The chapters to start with don't seem to link together a bit like a jigsaw where you don't have the picture but you can work out different chunks of the puzzle but they don't fit together.
Half way through, parts of the jigsaw start to make sense and fit with other parts. We find out more about the different relationships and how they interlink.
The book didn't grip me to start with. But as the jigsaw started to fit together, I wanted to know how Dash was going to get out of his predicament and whether Ben would be found.
Many thanks to the author and CrimeBookJunkie for a copy of this book in exchange for my honest review.
Many thanks to Claire for her review and being the little star that she is!  If Nobody Saw sounds like your type of read, click the link below!
[amazon template=iframe image&asin=B0100Q4Q9E]