Happy New Year #bookjunkies!  First post of 2016 comes from the fabulous Claire Knight and her review of No More Birthdays by Lissa Pelzer.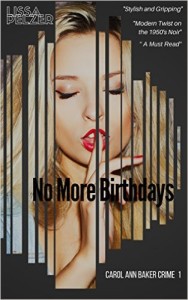 Synopsis: 
At a film festival in a small mid-western city, runaway teenager Lilly has come looking for old-time con man, Bobby.
He's been avoiding her since her last birthday and this is the only place she knows he'll be.
Detective Davis has made her way here too, but she's had her eye of Bobby for years.
They're all playing their hands close to their chests because everyone's got secrets to hide.
But Lilly's about to find out, the worst type of secret its the one you keep from yourself.
Claire's Rating: 3/5
Claire's Review:
Lilly is unreliable and selfish but she's got a few surprises up her sleeve. She's come to find Bobby, her ex, for money he owes her. But she's not alone in the quest for Bobby. Detective Davis is a tenacious woman ; she's out of her jurisdiction and on "holiday" coincidentally in the same small city. Lilly has secrets but don't we all…but will Lilly's secrets get her into trouble or worse?
I really wanted to enjoy this book after reading a rave review on a friends blog and the synopsis really appealed but I personally didn't love it. Don't get me wrong I didn't hate it, for me it was "ok". I read it all without wanting to stop but it didn't grab me by the hand and take me for a ride like other crime novels I've read.
The book has been described as a homage to the noir genre of the 1950s. Having never read anything of that ilk, I can't comment as the nearest I've come to noir novels are those of James Ellroy. As this is the start of the Carol Ann Baker crimes, it may be the story arch for this character develops her more. I saw potential in the premise and Carol Ann/Lilly could go far.
I love the new front cover for the kindle edition; for me the blonde girl with the bright read lips fits better with the story than the original.
I'd like to thank the author and CrimebookJunkie Blog for giving me the opportunity to read and review this debut novel
You are welcome Claire!  If this book grabs your interest, click on the link below! Thank you Claire for your thoughts on this book and I look forward to seeing what is next on your list!
[amazon template=iframe image&asin=B014HE7OHG]