Super excited that the lovely Claire Knight is back with her review of Rob Sinclair's Enemy Series.  Today it is Book 1: Dance With The Enemy.  Claire will be reviewing all three in the series, the final being posted on the Blog Tour Post February 16th 2016.  
The author will be writing a post so #WatchThisSpace! My other Guest Reviewer, Scottydog, will also be reviewing this series so cannot wait to see what he has to say!  And guess what…I will be too!  One series, three viewpoints!  A first for Crimebookjunkie!  So let's see what my 'lil possum Claire has to say!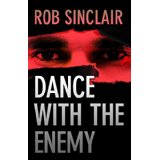 Synopsis:
Carl Logan was the perfect agent. A loner. No real friends or family. Trained to deal with any situation with cold efficiency, devoid of emotion. But Logan isn't the man he used to be, or the asset he once was. Five months ago his life changed forever when he was captured, tortured and left for dead by Youssef Selim, one of the world's most violent terrorists. When Selim mysteriously reappears in Paris, linked to the kidnapping of America's Attorney General, Logan smells his chance for revenge. Pursuing his man relentlessly, oblivious to the growing trail of destruction that he leaves in his wake, Logan delves increasingly deep into the web of lies and deceit surrounding the kidnapping. Finally, he comes to learn just what it means to Dance with the Enemy.
Claire's Rating: 4.5/5
Claire's Review: 
From the off, I felt like I'd be dropped into the start of a James Bond film. Beautiful Paris, the city of love, US government bigwig with his young female assistant in convoy with the Secret Service. Suddenly guns and bodies everywhere and the US official is bundled away and disappears. Enter Carl Logan, super spy with baggage.
Logan is a total action hero, rugged, butch, hardcore fighting machine, much harder and grittier than Mr Bond. He's a cross between the aforementioned Mr Bond and Frank Martin. I could imagine Jason Statham playing Carl Logan if the books were to be put on the silver screen.
I felt I was there in Paris and along for the exhilarating ride with Logan, every car chase, gun shot and bad guy encounter. I can't wait to read Rise of the Enemy….I'm glad I don't have to wait long as it's my next read!!
Thank you to Netgalley and Clink Street Publishing for sending me this ebook to read and review.
WOW!  Thanks Claire!  Looks like a book I need to bump up my TBR.  If this book sounds like a must read to you…click the link below:
[amazon template=iframe image&asin=B00KK6FJSC]