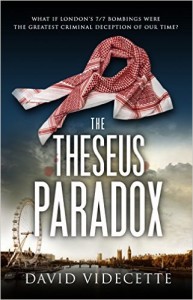 Synopsis:
We accepted it was terrorism.
What if we were wrong?
July 2005: in the midst of Operation Theseus, the largest terrorist investigation that the UK has ever known, Detective Inspector Jake Flannagan begins to ask difficult questions that lead to the mysterious disappearance of his girlfriend and his sudden suspension from the Metropolitan Police.
Who masterminded London's summer of terror? Why can't Flannagan make headway in the sprawling investigation? Are the bombings the perfect ploy to mask a different plot entirely? Is Jake's absent girlfriend really who she claims to be?
While hunting for the answers to the most complex terrorist case in British history, one man will uncover the greatest criminal deception of our time.
Terror, extremism and fear of the unknown,
Sometimes the answer is much closer to home.
My Rating:  5/5
My Review:
I was given this book by the author in exchange for an honest review.
Well what can I say!?  This book actually had me gripped from the start, so much so, that I literally read it within a matter of hours!  I have to be honest and point out when the author first contacted me, I was intrigued but had (well still have)  a massive TBR mountain, that I did not see myself getting to read this book until early next year.  Plus, my book-cover-snobbery had reared it's ugly head a bit, as I was not completely drawn to it.  My bad!  I really need to learn to  manage it better as this book blew me away!
As you can see from the synopsis, the storyline centres around the 7/7 bombings and delivers an alternative motive that DI Jake Flannagan tries to uncover.  With the author being from the line of work himself, I did wonder how much if his own experience(s) could be found within the pages of this book.
There were some great characters in this novel as well, but clearly it was Jake who stood out the most for me.  What a guy! At times I felt he was a right arse – womaniser, rogue, did his own thing without thinking how the consequences would affect others. (I know ladies…typically bloke right!?! Ha ha) But then, equally, I was totally drawn to him – the anger, low self esteem, a bit of an adrenaline junkie.  And towards the end we see how utterly messed up this guy can be…no spoilers…but I had to re-read because I thought to myself "WTF?!" – I mean this guy is a bloody copper!   I definitely think that we only got a taster of Jake and definitely look forward to meeting him again.
I enjoyed the humour that was also infused throughout the pages of this book.  Such a serious topic, that has divided people, the humour gave the book that authentic feeling as it was not overtly in your face.  Definitely added to my enjoyment of this book. The theory itself, that maybe the bombings were not specifically about terrorism as we have come to understand it…well I thought that was very plausible, so well done on getting my brain thinking!
I also found the detail of procedures to be superb and tried to figure out the fact from the fiction –to no avail I might add.  There was a whirlwind of action within this fast-paced thriller that left me, well, with a massive book hang-over!  I hope I don't have to wait too long to see what Flannagan is mixed up in next!
So #bookjunkies, if you love fast paced, grab you by the throat and knock you down action thrillers –you NEED to read this book!
Click the link below to treat yourself!