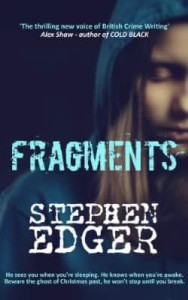 Synopsis:
CHRISTMAS 2014
Following an argument with her parents, 15 year old Freya Coleman storms out of the house. In tears, she goes to meet the only person who understands her: Robbie, the nice guy she's been chatting to online. She doesn't return home.
ONE YEAR LATER
A teenager's body is found in a Southampton park. She is gaunt, bruised, and barely breathing. She is rushed to hospital, but has been so badly abused that doctors fear her fragmented memory may never recover. When another girl is reported missing a day later, D.I. White of the Hampshire Major Investigation Team fears Freya's attacker has struck again.
GHOST OF CHRISTMAS PAST
With White's team focused on finding the new missing teenager, Freya's parents hire Private Investigator Johnson Carmichael to find the person who abducted their daughter. The family has a secret they can't tell the police, and it might just lead Carmichael to 'Robbie'.
My Rating: 4.5/5
My Review:
I was given an ARC by the author in exchange for an honest review.
Stephen Edger is one of those authors I randomly came across a year or two ago on facebook.  After reading his book, Snatched, I instantly became a fan.   I have enjoyed every book and series of this author and was not disappointed by Fragments in the least!
This was one of those fast-paced, fly-by-the-seat-of-your-pants thrillers!  From the first few pages I was hooked and literally could not put this book down!
What I like about this author's writing style is the way he manages to write a plot and sub-plots so seamlessly.  As a reader, it can be distracting when it seems you are reading two separate stories…Not in Mr Edger's case at all!
I also love the scope of his characters.  Although this book can easily be read as a stand alone, it is in fact, part of the PI Johnson Carmichael Series.  Trespass is book one and Remorse is book two.  Both of which, in my view, are great reads too!  Another thing I like about the characters, is how, with each book, I seem to get to "know" them a little bit more.  I grow to despise the baddies, while still being intrigued by their gruesome deeds.  And I grow to love and root for the good guys.  I think that is awesome when an author can do that!
And the cover…I do love a good cover…and this one was definitely eye-catching.  All the boxes have certainly been ticked.  So why did I give it 4.5 and not 5 you ask?  The whole book was certainly everything I enjoy about crime thrillers.  The one thing, and it is a small thing, was that even though the ending was great…I just wanted to know that little bit more.
So, as is hopefully …obviously ….apparent…I thought this book was awesome and will / have certainly recommended it to all my friends!  If you have not read any of Stephen's books, you don't know what you have been missing!
Click the link if you are interested in buying this book…it would make a great Christmas holiday read….AND it is only 99p at the moment..just saying! ?
[amazon template=image&asin=B0158ZX0I0]