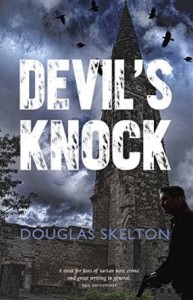 Synopsis: 
The Davie McCall saga returns in Devil's Knock. Davie McCall has darkness inside him. A darkness that haunts him, but also helps him do despicable things to those trying to cause him and his friends harm. When Dickie Himes is killed in a club owned by the Jarvis clan, it sparks a chain of events that Davie knows can only lead to widespread gang war on the streets of mid- 90s Glasgow. The police are falling over themselves to solve the crime, but when justice is so easily bought or corrupted, Davie needs to take matters into his own hands. Davie has to contend with the ghosts of those he has failed, a persistent Hollywood actor and a scruffy dog with no name. When he finds a target on his back, will Davie be able to suppress the darkness inside him and refuse to kill… Or will the devil s knock be too tempting?
My Rating 5/5
My Review:
I received this book via Netgalley in exchange for an honest review.
Well holy-bloody-cow!  This book was fabulous!!  I cannot believe it had been on my TBR pile for so long!  This is the first book I have read by Scottish author Douglas Skelton, but it will not be the last!
This was proper gritty, gangland, take-no-sh*t writing at it's finest.  A fast-paced crime thriller that leaves you breathless.  The momentum is steady throughout but really picks up towards the end and I literally could not put this book down.
I loved the characters in this book too, and their names were class! Scrapper, Skooshie, Maw Jarvis to name a few.  But Davie McCall was the one that kept me turning the pages for sure.  Dark, dangerous and unpredictable — this guy utterly fascinated me.  There was also a vulnerable side that came through, especially when it came to Vari and when Davie was having flashbacks about someone from his past.  I was drawn in quite quickly and think he may well be my new fictional crush…every girl likes a bad boy…whether they admit it or not. I may not want to marry his type but I certainly want to read about him!
This was the third in the Davie McCall Saga and I will definitely be reading Blood City and Crow Bait.  It may explain a few things that came up in this book.  Would I suggest they are read in order…on reflection, yes…but it is a great story in it's own right and I did not feel like I could not follow the story.  Sure, some of the surprises may be lost, but if they are half as good as this book I know I will not be disappointed!
There was absolutely nothing I did not like about this book!  The cover was fab!  The story was amazing and the characters were solid.  I look forward to reading the first two books and will definitely be reading more from this author in the future!
Click on the link to buy this book!  You will NOT regret it!
[amazon template=iframe image&asin=B010840ETO]