I really struggled composing this list because I have read so many great books this year!  In fact, 2015 has been my favourite reading year due to all the great new authors I have come across.  So thank you for enriching my book soul with your written scribe!!
Right then…guess I will just get to it.  I have been slightly "creative" as I wanted to make sure all the books I adored so much this year could be included. Click on the book name for my full review ? And for those authors who may not see your name/book, there will also be some "honourable mentions" at the end ~ so technically you are also in my top reads (I am so cheeky!!).  This list is in no particular order.
CrimeBookJunkie: TOP READS 2015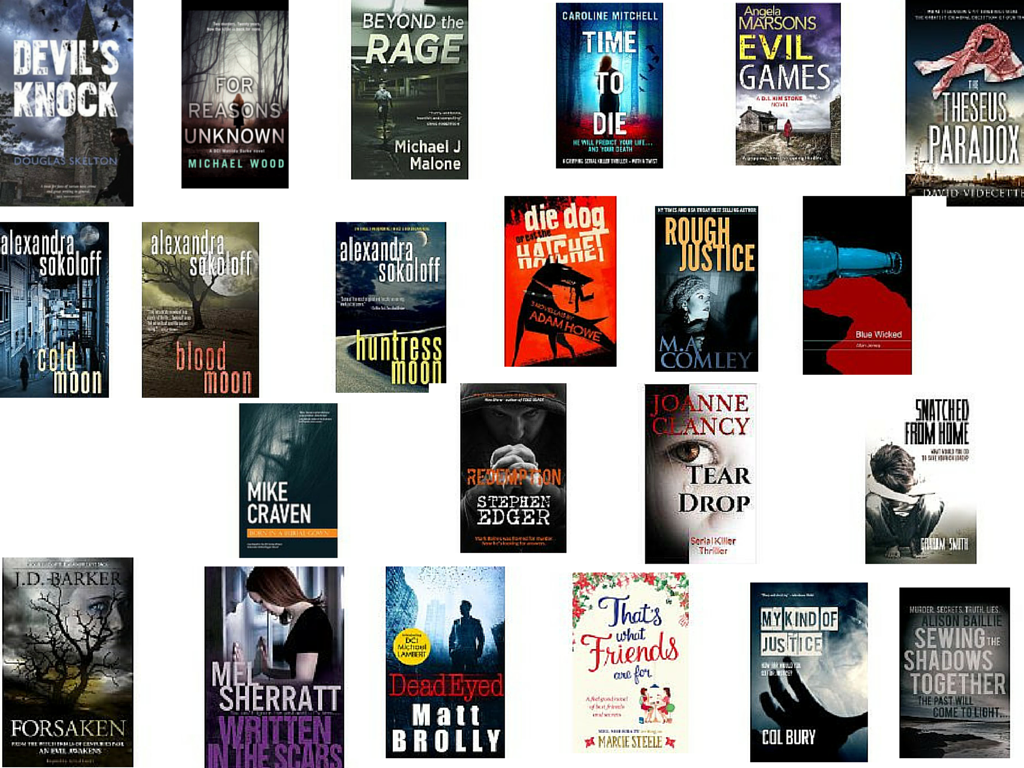 The Bookouture Babes: Caroline Mitchell's A Time To Die , Angela Marsons' Evil Games and Marcie Steele's That's What Friends Are For.  I loved each and every one of these books for their twists, turns and OMG moments.    
The Caffeine Nights Crew: Graham Smith's Snatched From Home, Mike Craven's Born In A Burial Gown and Col Bury's My Kind of Justice.  From Harry Evans to Avison Fluke to Jack Striker — these lead characters grip you from the start and pull you into the stories!  
M.A. Comley's Rough Justice.  I am actually a fan of the whole Justice series and now the DI Sally Parker series by M.A. Comley.  Rough Justice, however is my favourite as the author used ME as the main character…a pole dancer who actually helps THE Lorne Warner solve her own murder with the help of Carol and her psychic power.  I will treasure this book forever! 
Stephen Edger's Redemption. I cannot lie, I have developed a fictional crush on Mark Baines and this, the second in the series, was my favourite book so far.  I am really looking forward to Baines reappearance…hopefully sooner, rather than later!  
In the horror category I have two books which have left their mark on me. The first is JD Barker's Forsaken and the deeply disturbing but utterly entertaining writing of Adam Howe in Die Dog or Eat The Hatchet.  Although neither scared me (takes a lot to scare me) they both sent shivers up my spine for totally different reasons.  
David Videcette's The Theseus Paradox. This was a recent read after a gentle nudge from the author.  Well it was so good, I read it in about 5 hours.  Talk about an adrenaline rush! 
Michael J Malone's Beyond The Rage.  I love the McBain series by my new bestie (hee hee) and this book does not disappoint as we get to know a bit more about Kenny O'Neill–a likeable criminal who we first meet in the McBain series.  
Alexandra Sokoloff's Huntress series.  Huntress Moon and Blood MoonCold Moon.  I love Cara, a kick ass female lead who I still cannot explain!  This is an excellent series! 
Matt Brolly's Dead Eyed.  DCI Lambert comes alive in this debut novel.  This was a great story and I have recently been given an ARC for Dead Lucky so I am #DeadExcited Eeeeeeeeek! 
Mel Sherratt's Written In The Scars. I love The Estate Series and this book did not disappoint. Gritty, real and true to form.
Douglas Skelton's Devil's Knock. Davie McCall is runner up in my fictional crush department. I love this guy!  The story was fast paced and exceptionally well written. I have bought the other books in this series and cannot wait to get stuck in.
Alison Baillie's Sewing The Shadow Together.  I adored this book. It was such a great story, it has left a mark on me. This will be a book I would happily read again. 
Joanne Clancy's Tear Drop. A fabulous Irish Crime Thriller which hooked me from the start.  I have the second in the series to read and bet I will not be disappointed. 
Alan Jones' Blue Wicked.  For animal lovers (like me) this book will initially shock you, but what a great story. A Vet teams up with the police to solve a series of murders linked to animal cruelty cases he has stumbled upon. Great debut and well worth a read. 
Michael H Wood's For Reasons Unknown. All I can say is WOW!  This book was truly phenomenal and the first book written by Michael Wood.  I was shocked when I learned this was a debut novel. I cannot wait for Book 2.  I have no doubt it will be even better than this book…if that is even possible! 
So that is my TOP READS list for 2015, however I also enjoyed books by Nicky Black, Jane Isaac, Keith Nixon, Joel Hames, and look forward to reading books by David McCaffrey, Mark Tilbury, Eva Dolan, Mark Leggatt, Nikki Owen and Jeanette Hewitt.
PHEW!!! Roll on 2016!!!