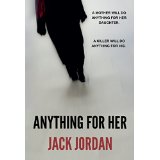 Synopsis:
Sometimes the past comes back to haunt you.
Louise Leighton's life has fallen apart, all because of one fateful night. Her husband is an adulterer, her sister is his mistress, and soon, Louise will lose everything she owns. But she never imagined she would lose her daughter.
Eighteen-year-old Brooke Leighton is missing. It's up to Louise and the Metropolitan Police to find her. Has Brooke run away? Or has she been taken against her will? And can Louise aid the investigation without mentioning the night where all of her troubles began?
If she mentions that night, she will incriminate her daughter for heinous crimes. But if she doesn't, she may never find Brooke; and if she has been abducted, the person who took her may come for Louise, too.
Sometimes the past comes back to kill you.
My Rating 3.5/5
My Review:
I was given this book by the author in exchange for an honest review.
This is the authors debut novel, and on that note, I have to give him credit as writing is not as easy as some people think!  The plot itself was interesting enough to grab my attention and had some key twists which I really enjoyed.
Unfortunately though, I have to admit that I really…really…struggled to read this book.  I am a pretty fast reader.  I can plough through, absorb and become utterly immersed in a book to the point it takes me only hours to read.  This book took me nearly 5 days!  I even had to stop in between –read TWO other books– and then pick this one back up because it just did not keep me hooked.
I found the first few chapters to be slightly repetitive.  I suspect this may have been for some sort of effect that the author was trying to get across.  It did, however, just annoy me slightly. I was just not "feeling" it.
There were also various POV's (Points of View) used which were not too bad, but I wondered if the story had been told differently, would it have captured my imagination and indeed my attention…that little bit more.
Some of the characters also annoyed me…but in a good way…as I just wanted to slap them silly!!  Louise especially!  I mean, c'mon woman!!  get yourself together.  Michael was a bit of a dark horse and Louise's sister too!
The pace did not pick up until I was about 80% into the book.  For me…that is just far too long.  But for others, they may find themselves more interested earlier on.  I know what I like and how I like it I guess.
As I said, this is the authors debut novel and so overall it was good!  It is definitely worth giving it a go as others seemed to have enjoyed it immensely.
My favourite part was the authors note at the end…no spoilers, but well said Mr Jordan.  I will certainly read another book from this author in the future as you never know..greatness could be hiding around the corner!
If you want to buy a copy of the book, click the link below!
[amazon template=iframe image&asin=B01065G8WW]