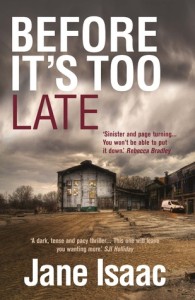 Synopsis:
I concentrated hard, desperately listening for something
familiar, the sound of life. I heard nothing. Just my own
breaths and the wind, whistling through branches above…
The thought made me shiver. I am buried alive.
Following an argument with her British boyfriend, Chinese
student Min Li is abducted whilst walking the dark streets of
picturesque Stratford-upon-Avon alone.
Trapped in a dark pit, Min is at the mercy of her captor.
Detective Inspector Will Jackman is tasked with solving the
case and in his search for answers discovers that the truth is
buried deeper than he ever expected.
But, as another student vanishes and Min grows ever weaker,
time is running out. Can Jackman track down the kidnapper,
before it's too late?
My Rating: 4/5
My Review:
I received this book via Netgalley in exchange for an honest review. I loved this book!  I have never read Jane Isaac's books before and now I will be sure to read some more!
Will Jackman is a fantastic character.  A DI in the police, he is a family man but also loves his job.  He is haunted by a recent tragedy and that seems to be the driving force in his work becoming a distraction, but also his lifeline.  Other reviewers have commented that he has become their fictional crush, and I can certainly see why.  There is just something about him! Deeeeelish indeed!
I also like DS Davies. In fact…I love her…well I love her character! She seems to be a huge support for Will but for me, her character stands out as a strong female lead who I hope we learn more about in future books.
SIO Reilly is another character who stood out for me.  I think everyone knows a 'Reilly' — out for himself, a bit arrogant and worried more about how he will come across rather than what is right or best for the team!  This guy leaves a bad taste in your mouth….I instantly disliked him!
Min Li, the victim, tells the story from first person POV (point of view) and the author does this brilliantly as the rest of the story is told from third person POV.  This is not always easily achieved and Jane Isaac makes the story flow seamlessly –so well done!  I liked Min Li instantly.  Despite being vulnerable, there is a strength in her that comes out and the reader is instantly hoping that she is saved or manages to escape.
I also thought the plot was well developed.  A fast paced read with some good twists that leave you on the edge of your seat on more than one occasion!  The kidnap of Min Li is the main story line, but there is the sub plot of the Nottingham case–two murdered girls–which is also intriguing.  I really wanted to know more about this case too.  I am hoping that it will feature again as it did not seem to get closure and it sounded like it could be a really juicy case!
Would I read anymore of Jane Isaac's books?  Well that, my bookish friends is a no brainer…Hell Yeah!  This lady has talent!  I am really looking forward to following DI Will Jackman in this series and I am certainly a fan!  So much so, that I will be checking out the previous books of this author!
So if you are looking for a gripping read, with suspense and a few "OMG" moments, definitely grab yourself a copy before it's too late! …see what I did there!
Click the link below and enjoy the ride #bookjunkies as you will not be disappointed!
[amazon template=iframe image&asin=B00QQC9VVK]