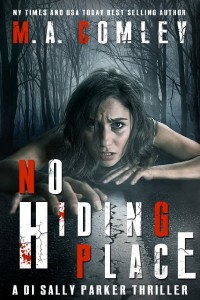 Synopsis:
A family ripped apart by secrets.
The discovery of Gemma Whiting's bludgeoned body within spitting distance of her family home, opens a new case for DI Sally Parker, one that quickly embroils her in Gemma's feud with male family members. The more Sally digs, the longer her suspect list grows.
Frustrated after months of investigation, yet another young woman is attacked close to where Gemma's body was found. Sally begins to wonder if she's been looking in the wrong direction for the killer.
My Rating:  5/5
My Review:
Well what can I say? M.A.Comley has come up trumps with this book…I loved it! DI Sally Parker is becoming a fast favourite for me, though she will never beat Lorne Warner (aka Simpkins) she is definitely runner up! And I cannot go on without gushing over the fantastic cover of this book. The picture, colours and overall effect is captivating! I do love a great cover!
What I enjoyed about this book is that it kept me guessing right until the very end. I had a few suspects in mind and just before the big reveal, I had finally figured it out….although my motive was not the right one …I was not too far off!
We are learning more about Sally in this book, which picks up from Wrong Place, the first in this new series. However, each book can certainly be read as a stand alone. I suspect there is so much more to be revealed about Sally, her family and her team, and although this book is just about to be released, I am eagerly waiting the next installment in this series.
There is also a clever red herring that leads you to think one thing when in actual fact we could not be further from the truth. No spoilers though!
Needless to say, this book had me gripped from the start–I literally could not put it down and loved all the twists and turns that kept me on the edge of my seat throughout!
Highly recommend this book!
Clink the link below for a copy!
[amazon template=thumbnail&asin=B0129WGOE2]