Happy Publication Day to the fabulous Mel Sherratt.  Mel has kindly supplied bloggers with a snippet from the book to really sink your teeth into!  My review canbe found here. Take a peek at what is in store for the residents of The Estate series….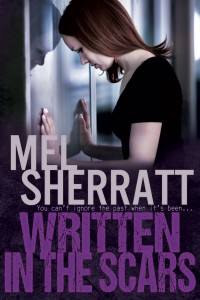 First scene of Written in the Scars
With a minute to spare before her shift was due to start, Donna Adams rushed into Shop&Save. She ran into the staff room at the back of the building and slipped her green overall over the top of her summer dress. Already she could feel sweat forming, although the glorious hot spell they were enjoying was supposed to break later.
'Made it by the skin of my teeth,' she sighed, joining her work colleague and supervisor, Sarah Hartnoll, behind the counter. 'Bloody hell, it's as hot in here as it is outside.' She glanced at the clock. 'Sorry, I would have been here earlier but I've had trouble with Mum not wanting me to leave. She was holding onto my arm for dear life, convinced that someone is trying to kill her again.'
Donna's mum, Mary, had been living in a self-contained flat for a few years since Donna's dad had died. More recently, she'd been diagnosed with dementia. After wandering off in the night, setting off the alarm to the front door, and being brought home by the police on three separate occasions, Donna had made the heart-breaking decision to move her into sheltered accommodation, where there would be someone to keep an eye on her all the time.
Sarah shook her head in sympathy. 'Never a dull moment in your life, is there?'
'Never.' Donna logged into the till and then looked up at the television monitor that was split into quarter views of the area in front of them. There were a few customers but thankfully no one was after their attention, and if she wasn't mistaken, Darren, their youngest member of staff, was stacking shelves in the far right corner.
The shop had four aisles, all covered by cameras, but it was well known amongst a certain group of people for being easy to steal from. Many a time she and Sarah had left someone to it rather than risk either a tongue-lashing or a hand raised to them. They had both learned the hard way over the years not to interfere with some customers.
'I still feel guilty every time I go and see Mum,' Donna added. 'But even if I had the time, I just don't have the energy to give her what she needs.'
'You should get Keera to do more.'
Donna stared at Sarah, before smiling at the elderly man who was walking towards them. 'Chance would be a fine thing with my lot,' she replied, helping him to fill his shopping bag before handing it back.
Donna had two children. A son, Sam, who was twenty-two and nineteen-year-old Keera, who had recently returned from a short time working in Ibiza.
Sarah held up a hand. 'I'd much prefer to hear all about the hen party on Saturday. Did you enjoy yourself or did you feel like the oldest swinger in town?'
Donna rang the money through the till. 'You might be laughing on the other side of your face when I tell you what happened.' She paused for dramatic effect once the customer had gone on his way. 'I met someone.'
'No!'
'Yes! His name is Owen, his eyes are so sexy – and his body is mmm-mmm.'
Donna smiled even more as she thought back to Saturday night. The hen party Sarah was referring to had been for a woman that Donna used to go to school with. About a month ago, Susan Parker had popped into Shop&Save by chance as she'd been driving through the estate. They'd been really good friends at school but had lost touch when Susan had moved out of the area. Once they'd recognised each other, they had got chatting and Donna had found herself invited to the night out. She'd declined at first as she wasn't sure she would know anyone else who was going, but Susan had mentioned a few names of women she knew, and said it would be great to catch up again.
In the week before the hen do, Donna had still had doubts about whether to go or not, but Keera persuaded her that she might have a bit of fun. And how glad she was of that now.
'How I got his attention is beyond me,' she continued. 'There must have been lots of women his age that he could—'
'Wait!' Sarah held up a hand. 'How old is he?'
'Thirty-five.' Donna dropped her eyes momentarily. 'He's too young.'
'No, he isn't.'
'I'm forty-two.'
'Don't say it like it's a disease!' Sarah scoffed. 'Besides, aren't we supposed to be as young as we feel? And at least you look after yourself. Half the women on this estate walk around in their pyjamas and slippers.'
'I suppose.' Donna sighed loudly. 'I'm not seeing him again, though.'
'Oh! He didn't want a second date?'
'Technically that wasn't a first, but yes, he did ask if he could take me out tomorrow night.'
'And you said no?' Sarah's tone was one of incredulity.
Donna shook her head. 'You know I don't have time – what with looking in on Mum and getting to work and then there's Sam, who couldn't look after a flea without—'
'The world won't fall apart if Donna Adams doesn't come to its rescue.' Sarah folded her arms. 'You should let that family of yours fend for themselves once in a while.'
'Leave everyone to their own devices?' Donna shuddered at the thought. 'It would be carnage!'
A young woman with the brightest of red hair came towards the till, and while Sarah served her, Donna stood staring into space. If truth be told, she hadn't thought of much else apart from Owen since Saturday evening. She could still recall the taste of him on her lips as he'd dipped his head to give her a long, lingering, goodnight kiss. A delicious shiver pulsed through her body.
'Earth to Donna, hello!' Sarah waved a hand in front of her face.
Donna giggled. 'Honestly, though. It's been such a long time since anyone's been interested in me, I just keep thinking that maybe it was too good to be true.'
'Will you listen to yourself? You haven't had a good seeing to in months – just get in there and bang him one if you get the chance.' Sarah picked up two mugs from beneath the counter. 'I'll make us a brew. And then I want to hear everything.' She glared at Donna. 'And I mean everything.'
Donna kept one eye on two teenage boys who had just walked in whilst Sarah went off to the staff room to make the tea. Sarah was just a few months older than her. Her hair fell to her shoulders, and she showed off pretty blue eyes below a blonde fringe. She wasn't particularly overweight for her height of five foot four but she did have a tendency to wear tight clothes that emphasised, rather than complimented, her shape.
Donna wished she had curves like Sarah's, but she was thin to the point of being scrawny. Most of the time she put it down to all the stress that came with her life, but a lot of it was to do with her erratic eating patterns and the fact that she was always on the go. Add that to the long-limbed build of a marathon runner and sadly she was never going to be as voluptuous as Sarah, no matter how much she would like to be. And, being a woman in her early forties, things had begun to sag that were beyond Donna's control.
Still, she could dream. Owen had made her night a lot more fun than she had thought possible.
Moments later, Sarah passed a mug of tea to her.
'I wish I'd been invited too,' she said, wistfully. 'You seem like you had a great time.'
Donna glanced up at the CCTV monitor again. The teens had been and gone with a couple of chocolate bars and a can of pop. There were only two customers in the shop at the moment, and they were in the middle of an argument. She turned to Sarah.
'It was one of those perfect nights where you don't expect anything to happen and then—' She was interrupted by the ring of her phone, rolling her eyes when she saw who it was. 'What's up, Sam? Oh – but you have his phone?' Donna looked confused as she spoke to the person on the other end. 'Yes, I'm his mother, his next-of-kin.' She gasped. 'What do you mean— is he okay? He what? Oh, no. I'm on my way.'
'What's wrong?' Sarah was already at Donna's side. She touched her lightly on the arm.
Donna took a few deep breaths, trying to keep her panic at bay. 'Sam's had an accident involving a chainsaw.' Her eyes glistened with tears. 'He's been rushed to A&E.'
So did that whet your whistle bookjunkies!?  If it did…and it should have…then click the link and grab yourself a copy!! You will not regret it ?
[amazon template=add to cart&asin=B013YL33R8]