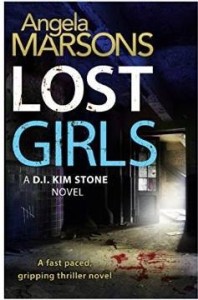 Synopsis:
Two girls go missing. Only one will return.
The couple that offers the highest amount will see their daughter again. The losing couple will not. Make no mistake. One child will die.
When nine-year-old best friends Charlie and Amy disappear, two families are plunged into a living nightmare. A text message confirms the unthinkable; that the girls are the victims of a terrifying kidnapping.
And when a second text message pits the two families against each other for the life of their children, the clock starts ticking for D.I. Kim Stone and the squad.
Seemingly outwitted at every turn, as they uncover a trail of bodies, Stone realises that these ruthless killers might be the most deadly she has ever faced. And that their chances of bringing the girls home alive, are getting smaller by the hour…
Untangling a dark web of secrets from the families' past might hold the key to solving this case. But can Kim stay alive long enough to do so? Or will someone's child pay the ultimate price?
My Rating: 5/5
My Review:
I was given this book by the publisher-Bookouture through Netgalley in exchange for an honest review.
First and foremost I have to say that I did not think Angela Marsons could top Evil Games…but she did… and this book was pure perfection!! Yes I did just use a double exclamation and could have thrown in a third as Lost Girls ticked all the boxes!
Once again, DI Kim Stone and her team find themselves on a seemingly "lost cause" case where death would be inevitable. The characters really come alive in this book, even the baddies! The enigma that is Kim Stone threw me a little off guard in this book. I felt we got to know her a little bit more but again, the surface was only scratched and we will luckily have to keep chiseling away in more of the future books.
I really enjoyed learning a little bit more about Dawson as well (I predicted we would after reading Evil Games *pats myself on the back*) and also I am more curious now about Tracy (the journalist) and Stacey, another member of Stone's cracking police team!
One bad boy I have to mention is Symes. What-a-character! Now I thought the sociopath in Evil Games was one twisted mofo…Symes definitely takes the lead now! This guy was repulsive, sent chills down my spine and made me feel I needed a shower every time his name was mentioned. But strangely, I also felt a small, very small, level of sympathy towards him as he was the product of something that generates killers and spits them back into society unsupported.
Ooooooh…and then there was Matt Ward..hello…and that is all I am going to say about that!
I was also convinced that I had solved the case and knew exactly who the main bad ass was….so much so, that I felt a wee bit cocky, had a bit of a strut going as the big reveal was about to unfold. What happened…well the author smacked some literary sense into this wannabe detective by throwing an even bigger twist into the fold! Touché Ms Marsons….I did not see that coming!
As I hope is abundantly clear, I loved this book. So much so, I forced myself to put it down each day so I had something to look forward to reading later. I just did not want it to end.
Now what I want to know is …when in the world can I get my hands on BOOK 4!?!?
Another great read of 2015 #bookjunkies…click below to grab yourself a copy ?
[amazon template=iframe image1&asin=B01408LTV6]