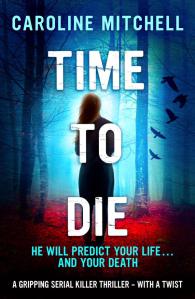 Synopsis:
He will predict your life… and your death.
Don't ever cross his palm with silver.
He will reveal your most shameful secrets.
He will predict your death.
He is hiding a secret.
He is hiding a monster.
And all his predictions come true.
Investigating a series of chilling murders, Detective Jennifer Knight finds herself tracking a mysterious tarot card reader known only as The Raven.
As the death toll rises, Jennifer and her team build a picture of a serial killer on the edge of sanity, driven by dark forces. But these are not random killings. And the method behind the madness could be the most terrifying thing of all …
Especially when it seems the death of one of their own is on the cards.
Time to Die is an absolutely gripping serial killer thriller with a breath-taking supernatural twist.
My Rating: 5/5
My Prediction…I mean…My Review:
First and foremost I would like to thank Bookouture/Netgalley for giving me the opportunity to read this book in exchange for an honest review.
I thought I would do my review with a slight twist (keep reading and you will see what I mean) — in keeping with the spirit/plot of this book — so bear with me.
I really enjoyed this book by Caroline Mitchell.  I read the first book in the series: Don't Turn Around and felt that the mash up of police procedural/thriller/crime and the paranormal was an interesting mix.  A cocktail of every thing I enjoy stirred and shaken so I was left with an interesting concoction of writing to read.
Well for me, Time To Die was much better!  It had the elements of supernatural so cleverly woven within the pages that you do not even have to suspend belief, stretch your imagination or think beyond the ordinary to the extraordinary as it just seems believable…or maybe I have just been "Mitchell-ed" –my new term for this author's way of captivating my interest and drawing me in!
We meet the usual suspects again –DC Jennifer Knight, DC Will Dunston, DI Ethan Cole and some newbies: DS Claire Gilmour and Zoe (to name a few) but this time they are working with Operation Moonlight, a special branch within their police team–Haven CID.   I enjoyed the way we learned more about Jennifer Knight in this book–no spoilers I promise– and I was really pleased to see that she develops a love interest in this book –I know, I know — I think Marcie Steele has left a little "love dust" on me (gag!!) If I turn soft I am totally blaming Bookouture!
Of course I cannot forget "The Raven" — the serial killer that Jennifer Knight must track down and bring to justice.  What a great character!  The vivid descriptions of this guy, drip fed to us in the chapters, let me picture him clearly and let me tell you–he is NOT someone I would like to meet and get a reading from!   *Shiver*   You have to take a leap of faith into the abyss of the supernatural with this character or you will not grasp his true meaning.
Once again, the author has filled these pages with gripping twists and turns and the final twist–well even I did not see that coming!!  Fan-bloody-tastic!  I enjoyed this book so much that I forced myself to read slowly as I just could not bear for it to end.  Now that is a great read!
So here is my prediction: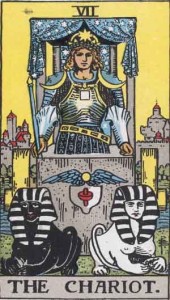 This is a card of success & triumph over all obstacles as well as self confidence and will power.  For the author I would say this card is telling her to keep writing the DC Jennifer Knight series even when it feels like the story is not forming; it will come and write itself.  For DC Jennifer Knight it is telling her to keep fighting those supernatural forces and believe in her skills as she is stronger than she thinks!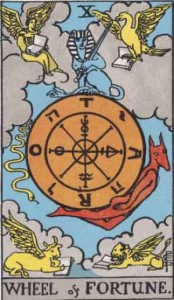 This card foresees the eternal battle of good & evil; a change for the better and good fortune/karmic change.  For the author I think we will see some internal challenges in the way DC Knight develops for future books but all will work out as it should.  For Jennifer, her powers and skills will lead her to solving more cases with Operation Moonlight and open the door to her personal relationships.  Those who cross her may feel her wrath….after all….Karma is a bitch!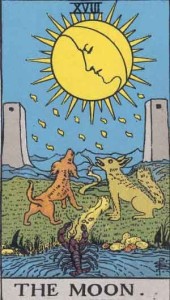 And finally The Moon.  This card represents illusion, imagination and dreams; signifies psychic work or abilities.  How fitting for this card to be drawn indeed!  For the author I would say it reinforces the path of supernatural crime-thriller writing she has chosen and hints at using her own experiences to weave / create the stories she shares with us readers.  For Jennifer it seems more obvious – carry on! Her work has meaning and will bring justice to those where justice seems impossible.
So there you have it.  I loved this booked.  I thought the story was brilliant.  The characters were creative and kept me hooked.  The twists and turns kept me gasping for more.  And I was pleased to see that DC Knight will be starting a new case…just hope I don't have to wait ages to read all about it!
Could not recommend this book any more highly!  If you fancy a read it is released Sept 24th and can be pre pre ordered by clicking below!  What in the world are you waiting for!?
[amazon template=thumbnail&asin=B014KWJDPQ]