Today I have the pleasure of hosting Alison Baillie on my blog.  Alison is the author of Sewing The Shadows Together and my review of this book can be found below.  Welcome Alison to CrimeBookJunkie!
Here are some more details of the Blog Tour dates and where you can catch up with Alison: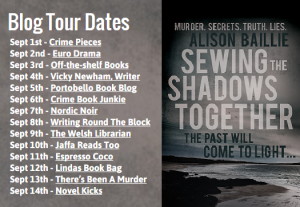 About the Author: ALISON BAILLIE was brought up in Ilkley, Yorkshire by Scottish parents. She studied English at the University of St Andrews, before teaching English in Edinburgh secondary schools and EFL in Finland and Switzerland. Now she spends her time reading, writing, travelling, playing with her granddaughter and attending crime writing festivals.
About the book: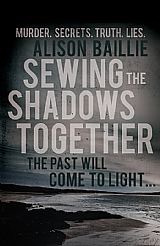 Synopsis:
Can you ever get over the death of your sister? Or of your best friend?
More than 30 years after 13-year-old Shona McIver was raped and murdered in Portobello, the seaside suburb of Edinburgh, the crime still casts a shadow over the lives of her brother Tom and her best friend Sarah.
"Shona had been gone for so long but the memories still came unexpectedly, sometimes like a video from the past, sometimes distorted dreams, but she was always there."
When modern DNA evidence shows that the wrong man was convicted of the crime, the case is reopened. So who did kill Shona? Sarah and Tom are caught up in the search for Shona's murderer, and suspicions fall on family and friends. The foundations of Sarah's perfect family life begin to crumble as she realises that nothing is as it appears. Dark secrets from the past are uncovered, and there is another death, before the identity of the real killer is finally revealed…
Set in Edinburgh, the Outer Hebrides and South Africa, Sewing the Shadows Together is a thoroughly modern murder mystery that keeps the reader guessing to the end. Filled with characters who could easily be friends, family or people we work with, it asks the question:
Do we ever really know the people closest to us?
My Rating: 5/5
My Review:
I was given a copy of this book by the author in exchange for an honest review. And as you may have noticed, I am also part of the fabulous Blog Tour for this author in the hopes that I can reach as many fellow #bookjunkies as possible to encourage them to read this book!
First and foremost, I have to say that this book took my breath away! The writing style and plot had me hooked from the first few pages. The twists, characters and mystery had me gripped to the very last page where we learn the truth behind the 30 year mystery!
What I liked about this book was how the author, through her writing, seemed to  grab my very soul. I could feel the passion that went into writing this story as I turned each page. The characters were beautifully "crafted" — we learn so much about each one of them without it being over done. For instance, after only a few pages I knew that I did not like Rory and felt sympathy for his wife Sarah. This stayed with me right to the very end. Tom intrigued me and I enjoyed how the author drip-fed the reader bits of his background throughout the book.  The reader steps into the pages and becomes a part of story — that was my experience anyway!
The emotion that poured from the pages also had my head spinning at times! I went from one extreme to the other–grief, sadness, anger, frustration, relief, happiness…you name it, I felt it when reading…I even laughed at myself sometimes thinking "what the hell? Pull it together Noelle…it is just a book!". But that is just it. It was MORE than a book…it was a journey of pure story-telling at its finest! I now want to visit Portobello and travel in the footsteps of these characters!
There was nothing in this book that I did not like…it is not often that words escape me, but when I finished this book, I closed it and was literally in awe…I am sure I even grinned a bit when I was reflecting back and thought "Wow! What a great book!"
Finally, I loved the cover of this book. I found it haunting, eery, intriguing and mesmerising –everything I felt, I found within the book! My review does not do this book justice so I urge, beg and even plead that you grab yourselves a copy and experience the magic of this debut novel by Alison Baillie. You will not regret it!
[amazon template=iframe image&asin=B012GZ04W0]