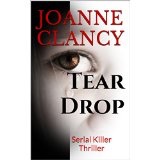 Synopsis:
The crimes of the past echo in the present…
Ross Campbell vanished almost a decade ago, and since then nothing has been heard from the serial killer known as Teardrop…until now.
An Irish newspaper receives a chilling letter claiming to be from Campbell, which promises a new reign of terror.
As death stalks the dark streets of Cork City, it soon becomes clear to the police and the media that a serial killer is on the loose.
Elizabeth Ireland, a former detective with The Metropolitan Police, was the lead investigator on the original case when Campbell vanished. However, only she believes that Campbell didn't send the letter.
She embarks upon a frightening psychological journey to uncover the killer's identity, where she's pulled into a lethal game in which the killer sets the rules and waits for her next move.
With the crimes of the past echoing in the present, can she find the killer before he comes for her?
The rising star of the Irish crime thriller scene returns with a novel that will intrigue fans of The Lie, The Girl on the Train, and Silent Scream.
My Rating: 5/5
My Review:
I was given this book by the author/Netgalley in exchange for an honest review.
Well Holy-Bloody-Cow! My mind is still whirling from the twists in this book! In case you can't tell…I absolutely loved it!
I loved the story itself. The past coming back to haunt the main character (Elizabeth Ireland) and the mind games that ensued left me feeling as if I was a part of this story. Why have I not come across Joanne Clancy before!?
This book was fast-paced and I could not put it down! In fact, I think writing this review has taken me longer than reading the book!
Elizabeth Ireland is a great character. She is one of those chracters that keeps you on your toes. I particularly liked her personality which came across easily within the pages. I am also intrigued by her partner, Frank — who may now find himself burdened — no spoilers though. And Brendan Mahon…what an absolute arse!  Though at times, I did find myself feeling a little bit sorry for him…but not much! ha ha
Needless to say, this is one author who I will definitely be reading more of and I look forward to the next in the Elizabeth Ireland series.
Click the link if your interested in this book. #1 Bestseller in Irish Crime at the moment and I understand why!!
[amazon template=iframe image&asin=B00YFINMQM]