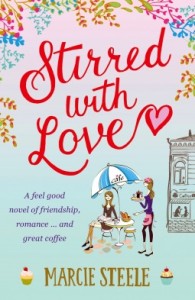 Synopsis:
Sometimes the best friends can be found where you least expect them …
Still grieving after the loss of her beloved husband, Lily Mortimer is determined to do something with the time she has left.
After the end of her fairytale marriage, thirty-something Kate is trying hard to mend her broken heart.
Chloe, a young woman with the world at her feet, is struggling to know what to do with her life.
When Lily embarks on a new venture in the picturesque town of Somerley, the three women come together to open The Coffee Stop, the most charming café for miles around.
But opening a coffee shop is never as simple as it seems, especially when you add neighbouring competition, local heart throbs and heartbreak to the mix.
When tragedy strikes, can the three women pull together to make the new business fly, or will Lily's last chance disappear down the drain along with yesterday's coffee grinds?
My Rating: 5/5
My Review:
I received this book from Netgalley in exchange for an honest review.
I know! I know! This is not a crime book, no horror, not a thriller so why in the world did I choose this book! Anyone who knows me probably also knows that there is not one romantic bone in my body. I struggle reading gushy love stories, have absolutely no interest in books of The Fifty Shades kind and it takes some damn good writing to even get a glimpse of a tear from this Ice Queen. That being said…I absolutely, honest and truly, LOVED THIS BOOK! …and I am not even hormonal at the moment!!
Marcie Steele, aka Mel Sherratt…yes THE Mel Sherratt…has cleverly combined a bit of spunk (behave peeps! not that kind of spunk!) with a dash of hope, a dollip of friendship and sprinkled it with love to come up with what I am now coining CHICK GRIT!
The story itself was a feel-good story with moments of heart-break, anger, sadness, hope and of course…love! What I liked about this is the whole feel of the story. It could be you, embarking on a new and scary chapter in your life–full of twists and turns– with friendship at the core.
I absolutely connected with Kate's character and felt I had a kinship with her. In fact, at times, it felt like I was looking in a mirror rather than reading about a fictional character. I enjoyed the youthful care-free spirit of Chloe and even connected with Lilly…hmmm…maybe I should not have revealed that…I am no old lady!! But there were parts of Lilly's life that I cold relate to and that drew me to her more.
I also loved the flirty humour in this book and was pleasantly surprised by a few OMG moments which made it all the more better.
And …. much to my chagrin….I am going to have to admit that this Ice Queen even got a bit misty-eyed in parts but if you tell anyone I may have to kill you! (in my head of course as I don't fancy time in prison ?)
I was really worried when I decided to read this book as I absolutely adore Mel Sherratt and wondered what I would do if I had to write a review which would not be a positive one. But bloody hell…I had nothing to worry about as this book rocked!
I may actually read another of Marcie Steele's books if they are as good as this one. Congrats Mel Sherrat/Marcie Steele as you are one hell of a talented writer! And smart move Bookouture as you are on to a winner!
I highly recommend this book– Check out Marcie Steele via the link below:
[amazon template=iframe image&asin=B013C7TPKS]