About the Author: Alexandra Sokoloff is the bestselling, Thriller Award-winning and Bram Stoker and Anthony Award-nominated author of eleven supernatural, paranormal and crime thrillers. The New York Times has called her "a daughter of Mary Shelley" and her books "Some of the most original and freshly unnerving work in the genre."
As a screenwriter she has sold original suspense and horror scripts and written novel adaptations for numerous Hollywood studios (Sony, Fox, Disney, Miramax), for producers such as Michael Bay, David Heyman, Laura Ziskin and Neal Moritz.
She is also the workshop leader of the internationally acclaimed Screenwriting Tricks for Authors workshops, based on her Screenwriting Tricks for Authors workbooks and blog.
You can find Alexandra here: Website Twitter Facebook Goodreads
First and foremost I want to thank Alexandra for asking me to be part of her Blog Tour.  This is my first one ever and I am very pleased that it is Alexandra's books that have popped by blog tour cherry!  I am currently reading Cold Moon, the third in the Huntress Moon series and I am addicted to these books.  Below are my reviews for Huntress Moon (Book 1) and Blood Moon (Book 2).  Although you could read each of these books as stand-alones I would urge you to read them in order to get the true Huntress Moon series experience….and it is an experience you do not want to miss!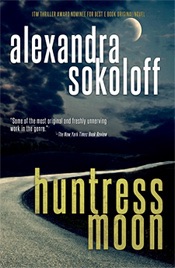 Synopsis:
A Thriller Award nominee for Best eBook Original Novel… Book 1 in award-winning author Alexandra Sokoloff's riveting new Huntress FBI series about a driven FBI agent on the hunt for that most rare of all killers: a female serial.
FBI Special Agent Matthew Roarke is closing in on a bust of a major criminal organization in San Francisco when he witnesses an undercover member of his team killed right in front of him on a busy street, an accident Roarke can't believe is coincidental. His suspicions put him on the trail of a mysterious young woman who appears to have been present at each scene of a years-long string of "accidents" and murders, and who may well be that most rare of killers: a female serial.
Roarke's hunt for her takes him across three states…while in a small coastal town, a young father and his five-year old son, both wounded from a recent divorce, encounter a lost and compelling young woman on the beach and strike up an unlikely friendship without realizing how deadly she may be.
As Roarke uncovers the shocking truth of her background, he realizes she is on a mission of her own, and must race to capture her before more blood is shed.
My Rating: 5/5
My Review:
I was given this book by the author in exchange for an honest review. The fact that I absolutely loved it made this task a whole lot easier! As a #NewAuthorForMe I can say with all honesty that I will be downloading more of Alexandra's books as soon as my bank balance allows!
I was absolutely fascinated and immediately hooked after reading only the first few pages of this book. I have had a somewhat strange fascination with serial killers & profiling since my teenage years. In fact, part of my Masters in Criminology was a focus on profiling/serial killers so this book instantly had me in its grasp. What I enjoyed about the plot was the combination of fact and fiction which was beautifully interwoven in the pages. The distinctions are perfect and it is clear that the author has done her research.
Without going into all the characters in too much detail I will point out just a few of my faves. First you have the FBI team with Assistant Special Agent in Charge Matthew Roarke as the lead agent…*swoon*. I have definitely developed a fictional crush on this guy! He comes across as haunted, passionate, determined and strong. I was led on a journey..the journey…with Roarke every step of the way. His team are also strong, clever and determined and I loved Epps and the developing conflict between Epps and Roarke was well written.
Then there is Cara Lindstrom. Who is this woman? The background is full of suspense and gets into your head. She is crafty, creative, adapts easily and despite the distinctive features she is like a chameleon…elusive. There is also a survival instinct which comes across. I don't know whether I am meant to dislike her or not…but I am certainly in awe!
I felt an almost supernatural element within the story. There is nothing overt and I may be completely wrong but there is something more I am yet to discover. I found myself questioning everything; it was like I became part of the story- trying to keep up with Roarke in solving the mystery. The book is jam-packed crime thriller action which leaves you on the edge of your seat.
This whole book was gripping, with great OMG moments and despite the cliffhanger ending…which normally bug me…it is the perfect lead into the second book, Blood Moon which I have reviewed next!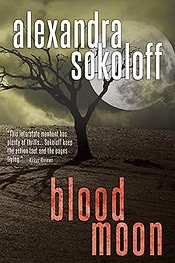 Synopsis:
Book Two in the Thriller Award–nominated Huntress/FBI series
Twenty-five years have passed since a savage killer terrorized California, massacring three ordinary families before disappearing without a trace. The only surviving victim of his rampage was a child…who is now wanted by the FBI for brutal crimes of her own.
Special Agent Matthew Roarke is on an interstate manhunt to track her down, despite feeling torn between his dedication to duty and his sympathy for her horrific history and motives. But when Roarke's search unearths evidence of new family slayings, the dangerous woman he seeks—and secretly wants—may be his only hope of preventing another bloodbath. He just has to find her first.
The pulse-pounding sequel to Huntress Moon is sure to leave readers on the edges of their seats.
My Rating: 5/5
My Review:
I was given this book by the author in exchange for an honest review and OMG if I could give this book 100 star ratings I would (but that would mess up my rating figures!). I am always curious as to whether authors can keep up the momentum when they write a series. Well Alexandra Sokoloff kept it up and then blew it out of the water!
In this book we are delving even deeper into Cara Lindstrom's psyche. We learn a lot more about what haunts her and there is an undeniable connection between herself and Roarke. Cara continues her hunt for "It" while Roarke is hunting her.
The tension between Epps and Roarke is all the more evident and as a reader I feel conflicted too! Who do I side with…well sorry Epps but I am with Roarke on this one.
A few new characters are thrown in for good measure and really add to the story: Jade ~ a witness the FBI need to keep on side and Rachel ~ who runs a home for helping children who are sexually exploited. Both fascinating characters in their own rights, I suspect there will be more reveals in Cold Moon.
I was so intrigued by this book it took me about 8 hours total to read. We are left with another cliff-hanger but thankfully I had my copy of Cold Moon so I was not left "rattling". A #crimebookjunkie like me needs to feed her addiction and this is a series which I never want to end! I am currently reading Cold Moon and expect to post my review in the next few days.
Once again Alexandra Sokoloff has outdone herself! A gripping series mixing reality with fiction leaving the Huntress Series pulsing through my veins! I would love to see this on television! I was even more excited to see this:
If you have not experienced this series of books…what are you waiting for! Click the links below 😉
[amazon template=add to cart&asin=B00NKTTDH4] [amazon template=add to cart&asin=B00NPEDYN8] [amazon template=add to cart&asin=B00N43K3DY]