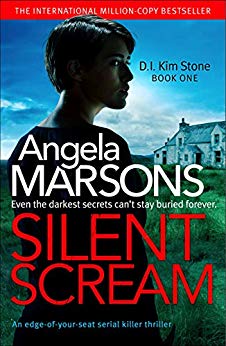 Synopsis:
Five figures gather round a shallow grave. They had all taken turns to dig. An adult sized hole would have taken longer. An innocent life had been taken but the pact had been made. Their secrets would be buried, bound in blood…
Years later, a headmistress is found brutally strangled, the first in a spate of gruesome murders which shock the Black Country.
But when human remains are discovered at a former children's home, disturbing secrets are also unearthed. D.I. Kim Stone fast realises she's on the hunt for a twisted individual whose killing spree spans decades.
As the body count rises, Kim needs to stop the murderer before they strike again. But to catch the killer, can Kim confront the demons of her own past before it's too late?
An absolutely gripping, darkly compelling, and nail-bitingly tense mystery thriller that will keep you racing through the pages long into the night. A Kindle Chart #1, million-copy, international bestseller, Silent Scream turns fans of Rachel Abbott, Val McDermid and Mark Billingham into Angela Marsons addicts.
My Rating: 5/5
My Review:
I had seen many positive reviews on this book and it sat in my mountain of to-be-read books. Then I became involved in the #NewAuthorForMe challenge and took the opportunity to bump this book up my list. Best decision I ever made as this book was just gob-smackingly brilliant! I could not…did not want..to put this book down and subsequently read it in a total of about 8 hours over 2 days.
The story-line itself is gripping and full of suspense. There were quite a few twists as well and although I figured out who the killer was–I tend to make it my mission to try and solve the crime alongside the main characters– there was a massive OMFG moment …YES… Not just an OMG moment…I was totally blown away and extremely impressed.
I loved DI Kim Stone. What a brilliant character! And the author cleverly interweaves her background story throughout the pages.  This makes Kim Stone all the more real. She is intelligent, hard-nosed, passionate and determined–you know she will have your back.
I also loved the team but especially DS Bryant and DS Dawson. DS Bryant is like the angel on Kim Stone's shoulder–trying to guide her in the right direction but knowing she will ignore him and do the complete opposite–no matter the consequence–as long as she gets the end result. I also was intrigued by DS Dawson. There is definitely more to this guy than meets the eye.
So I am now looking forward to reading Evil Games (DI Kim Stone 2) and highly recommend this author for anyone looking for a pretty mind-blowing read! Clink the link below to add this to your shelves!