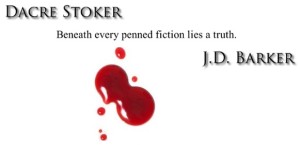 I don't know about you but I was pretty excited to hear the news that J.D. Barker, author of Forsaken has joined up with Dacre Stoker to write a prequel to Bram Stoker's Dracula.
This was one of my all time favourite horror books and who better to write this than J.D. Barker after the huge success of Forsaken!
On the official webpage http://jdbarker.com/j-d-barker-signs-on-to-co-author-prequel-to-dracula-with-dacre-stoker-draculabegins we learn about the authors:
"J.D. Barker
J.D. Barker is the international bestselling author of Forsaken (Hampton Creek Press, 2014). A finalist for the Bram Stoker Award for Superior Achievement in a Debut Novel, the expertly crafted tale twists both past and present into a fast-paced, suspenseful ride that leaves you hungry for more. His latest novel, The Fourth Monkey, is set to release early in 2016. He currently splits his time between Englewood, FL, and Pittsburgh, PA, with his wife, Dayna.
When asked about this project, Barker had this to say: "The information uncovered by Dacre is phenomenal. Bram Stoker truly believed vampires were real. As the world turns the last page of this book, we may find ourselves wondering if he was right."
Dacre Stoker
As the official representative of the Bram Stoker Estate, Dacre Stoker travels the world with his compelling presentation, Stoker on Stoker. The presentation weaves together the details of Dracula's history, Stoker family history, and Bram Stoker's life in Dublin and London, then separates fact from popular fiction…revealing the truth about all things Stoker and Dracula. Stoker is the co-author of the bestselling novel Dracula the Un-Dead (Dutton, 2009) and Bram Stoker's Lost Journal (Robson Press, 2012), a nonfiction book based on Stoker's unpublished personal journal found in an attic on the Isle of Wight. He currently lives in South Carolina with his wife and children.
You can subscribe to keep up to date on the progress of this via the link above. I am looking forward to seeing this develop as I have no doubt it will be spine-tingling fright at its finest!