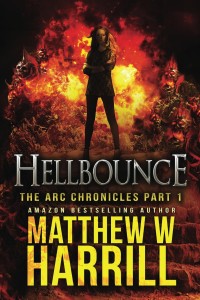 Synopsis:
As a psychologist in a prison hospital, Eva Ross had always dealt with her share of sinners. The corrupt, the insane, their minds were all hers to unlock. But when those around her, those she trusted with her life start to exhibit the same characteristics, she is forced to turn to a stranger, a man whose name she is incapable of even remembering, for sanctuary.
Follow Eva as she crosses continents to unlock the answers, and her eventual destiny.
Hellbounce. Demons don't always hide in the dark.
My Rating: 5/5
My Review:
I was given this book via THE Book Club on Facebook in exchange for an honest review.
I can honestly say that I have now become a HUGE fan of the author and I am very much looking forward to reading the next two books in the Arc Chronicles series. If you love demons, the supernatural, the fight between good vs evil and true horror all mixed in one….well this is the book for you!
What I love about fiction and particularly this book is that sometimes you have to suspend your beliefs, go beyond what you know to be true and immerse yourself into some unreal dimension where reality mixes with the stuff of nightmares. This book did all that and provided a fantastically written story to boot.
I loved the main characters in this story. Eva Ross is no fool. And Madden…well what can I say…I think I have a fictional crush on this one! Hard as nails but vulnerable and funny and well…a brilliant partner for Eva in her journey to stop the apocalypse. I also really liked Janus, who we meet halfway through the story and his importance in the story cannot be overlooked.
There are so many other characters and sub-plots that I could mention but I am afraid my review may turn into a mini essay on why I am now a follower of this series…so I won't bore you to death on that front. I would, however, highly recommend this book to anyone who enjoys the horror genre. It was well written, fast-paced and a bloody brilliant read!
I am really looking forward to reading Hellborne next and by the time I finish that, Hellbeast (Book 3 in the Arc Chronicles) should be finished!