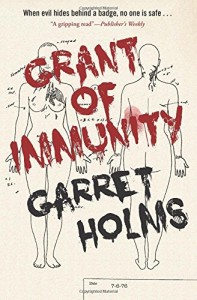 Synopsis:
WHEN EVIL HIDES BEHIND A BADGE, NO ONE IS SAFE . ..
It's 1976, Los Angeles. Sarah Collins, a young mother of two, is brutally raped and murdered at the Hollywood Reservoir. For nineteen years, the murder remains unsolved and the case goes cold.
In 1995, the streets of Los Angeles are being terrorized by Jake Babbage, a traffic cop who uses his position of power to rape and murder innocent women. On his way to court one day, Babbage sees Judge Daniel Hart. The two recognize each other, and the terrifying night of nineteen years ago comes back to haunt the highly respected judge. The aftermath of the encounter brings long-buried secrets to light and tests the moral fiber of Judge Hart, who has committed himself to protecting those victimized by the very crimes of which he is now accused.
My Rating: 4/5
My Review:
I received this book as an ARC in exchange for an honest review.
I was pleasantly surprised by this book. The pace was smooth and even where it needed to be and then picked up with the right burst of suspense at the appropriate moments. That is what kept me interested alongside the actual storyline.
There was a predictability within the story which normally puts me off slightly…but you know what…it actually worked well in this book. I am still wondering if that was just coincidental or the author actually planned it that way. Despite feeling intentional and wondering whether it was, it was cleverly written and again made the story all that more interesting.
The characters within this book also had a likeability factor…well most…as I found it hard to like Jake Babbage, the antagonist. Daniel Hart, the main character in this book is very likeable. He feels real, down-to-earth and as a reader, I felt empathy towards the situation he found himself in. As I mentioned earlier, Jake Babbage is a down right…well…he is mean, nasty and very unlikeable…which means the author did his job. I really despised him. He was weak, a bully and I kept hoping someone would come along and basically kick his arse! Then you have the legal eagles: Amanda for Daniel vs Doris for Babbage …great characterisations. Each fit the person they were representing to a "T". The contrast between the pair was clearly evident and well presented. I did wonder if Doris was just a bit too arrogant at times but then remembered I was reading book and not a Court Transcript so who cares! Sean and Erin…hmmm…I liked them, but never felt truly connected to them despite both playing fairly big roles in the story.
The author is a Judge in "real-life" and this was evident in his attention to detail. The court scenes were well written and made me picture myself sitting alongside the others in the public gallery.
The ending seemed somewhat abrupt in the sense that there was a massive build-up throughout the pages and then…it just ended a little too happily-ever-after for me. Regardless of this, I did really enjoy this book and definitely recommend it to anyone who enjoys suspense/legal-thrillers!