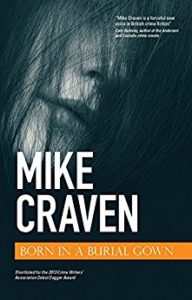 Synopsis:
Shortlisted for the Crime Writer's Association 2013 Debut Dagger
Detective Inspector Avison Fluke is a man on the edge. He has committed a crime to get back to work, concealed a debilitating illness, and is about to be made homeless. Just as he thinks things can't get any worse, the body of a young woman is found buried on a wet, Cumbrian building site. Shot once in the back of the head, execution style, it is a cold, calculated murder. When the post-mortem reveals she has gone to significant expense in disguising her appearance, and the only clue to her identity is a strange series of numbers, Fluke knows this is no ordinary murder. With the help of a psychotic ex-Para, a gangland leader, and a woman more interested in maggots than people, Fluke must find out who she was and why she was murdered before he can even think about finding her killer. As the body count rises and his investigation takes him from poverty stricken estates to picture perfect Lake District villages, he realizes his troubles are only just beginning. Because someone, somewhere has a plan and if Fluke can't figure out what's happening, he may just be next.
My Rating: 5/5
My Review:
I was given this book by the author in exchange for an honest review. I first came across Mike Craven when I read his collection of short stories in "Assume Nothing, Believe Nobody, Challenge Everything". That book was brilliant and I wondered if the author could deliver another cracking read. Well I am more than happy to say that he could and he did!
Born In A Burial Gown was extraordinary! The storyline itself was cleverly written and slowly revealed. The subtle build up of suspense left me holding my breath as each chapter ended with a little more of the story revealed. The story hooks you from the start. You immediately start wondering what the crime is about as it is not delivered to you on a plate. I personally love the challenge of trying to figure out the case/mystery as I go along and I already had my "crime-solving" head on within the first few pages of this book.
We are once again introduced to Cumbria's FMIT (Force Major Incident Team) with DI Avison Fluke as the lead. At times, Fluke reminds me a bit of Rebus — he does not tolerate fools and expects 100% from those he works with. You get a much deeper insight into Fluke and his team in this story and I really enjoyed that. I began to visualise what each character looked liked and the quirks that make them who they are.
The descriptions of places, people and the crime(s) were well written. I particularly loved the description of Fluke's home in this book…so much so that I want to live there myself!!  I also enjoyed learning the meaning of the title when it was revealed in the book.  I had heard it before but the significance it has for the story works perfectly and is revealed at just the right time in the story.
If you are looking for a book that will keep you guessing right until the very end well this is the book for you! I highly recommend this book and think it will be one that stays with me for some time. Well done Mr Craven on such a mind-blowing read!