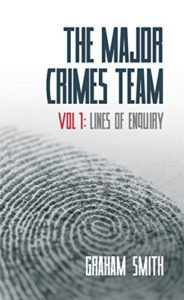 Synopsis: The Cumbria Major Crimes team is under immense pressure to get results. DCI Harry Evans and his subordinates, DS Neil Chisholm, DC Lauren Phillips and DC Amir Bhaki must juggle cases while tragedy stalks them. Up in Glasgow, DI John Campbell is preparing to replace Evans, whose renegade ways have brought enforced retirement.Together they must investigate a man killed in his own home, a vigilante group chasing a suspected paedophile, a river dammed
for no obvious reason and a woman whose cries of 'wolf' turn to 'rape'. Meanwhile DC Phillips goes undercover off the books.
My Rating: 5/5
My Review:
This was one of those books that had me breathless. We are introduced to DI Harry Evans and his team and there are no holds barred with the author. I literally felt liked I was smacked in the face by the amazing plot/sub-plots through out and was left wondering whether or not I could take any more!
The twists through out this book were true "OMG" moments and there were many! I am fast becoming a huge admirer of Cumbria's police force (MCT) and loving the "Gene Hunt" feel of DI Evans –a definite Ashes to Ashes vibe going on…old school police mentality mixed with the modern…LOVE IT!
The characters in this book definitely get under your skin–both the good and the bad qualities give you insight into where the character development is heading…yet you feel like Graham Smith (the author) still has more up his sleeve.
I am extremely excited to read the next DI Harry Evans book: Snatched From Home and highly recommend this book as a taster. Graham Smith you have truly WOW'd me!