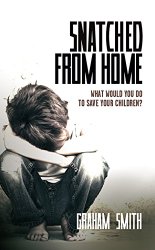 Synopsis:
Middle-class parents Victoria and Nicholas Foulkes are distraught when their children are kidnapped against Nicholas's gambling debts. Penniless and desperate, the couple turn to crime as a way to raise the ransom. Hot on their heels is recently bereaved DI Harry Evans and his Major Crimes team. Evans is fighting against enforced retirement, and his replacement, DI John Campbell, is foisted upon him along with other cases. If he must leave the police then he wants one last big case before he goes. In a race against time Victoria and Nicholas must evade the police while continuing to add to the ransom fund. Can they save their children before time runs out?
My Rating: 5/5
My Review:
Well what can I say!? This book absolutely blew me away. I had just finished The Major Crimes Team Vol 1: Lines of Enquiry and wondered if the author could deliver another fabulous book…well OMFG …he could …and he did!
The main storyline was about a couple who have to turn to criminal activities to save their children. It was a roller-coaster of a ride indeed…however, the other sub-plots for me, were just as –if not more–interesting to follow.
Graham Smith has a way of making the reader feel as if they are part of the journey. The writing style is what captured my interest–the word choice and voices of the characters, for me, stood out and made each one unique in their own right. The tortured soul of DI Evans, the promiscuity of DC Lauren Phillips and the alleged 'innocence' of the new team member DI John Campbell, to name a few…had me captivated from the first page.  I think I have found a new favourite author!! #Fangirl for sure!!!
The very pages of this book got under my skin…I actually cannot wait to find out what happens next and loved the way this book ended. Graham Smith is another author I will be keeping a close eye one for sure. I cannot express in words how great this book was. I would, however, suggest that you read The Major Crimes Team first to get yourself familiar with the characters — however, it is not a must as both books can be read as stand-alones!
Click the link below and grab yourself a copy #bookjunkies as you will NOT regret it!