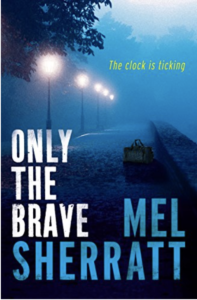 Synopsis:
When one of the notorious Johnson brothers is murdered and a bag of money goes missing, a deadly game of cat and mouse is set in motion.
DS Allie Shenton and her team are called in to catch the killer, but the suspects are double-crossing each other and Allie has little time to untangle the web of lies.
As she delves deeper into the case, things take a personal turn when Allie realises she is being stalked by the very same person who attacked her sister seventeen years ago and left her for dead.
Set over forty-eight tension-filled hours, Only the Brave is the latest gut-churning book from acclaimed author Mel Sherratt.
My Rating 5/5
My Review:
Well as I said before, Mel Sherratt you have done it again! Just when I think your books cannot get any better you come out with something like this! The multitude of emotions I felt when reading this book was incredible…I did not know whether to laugh, cry or scream in frustration as we, the readers, go through each and every step of DS Allie Shenton's journey to catch her sister's attacker.
What I particularly love about Mel Sherratt is how she grips the reader from the get-go. No fluff, no chaos…just pure literary genius in my view. The
characters are believable–they could be your next door neighbour! And each story-line leaves you wanting more.
Taunting the Dead was one of my all time favourite books and I wondered if Mel could capture the essence of that story through the DS Allie Shenton series. I need not have worried as Follow The Leader (Book 2) was great but Only The Brave is definitely the shining star in this series…for me any way!
I love the Stoke/Staffordshire references and how Mel's descriptions leave me visualising each and every place. I also loved the ending as no doubt we have not seen the last of DS Allie Shenton and for that I am grateful. I look forward to reading what is next for Allie Shenton in this series as I have no doubt Mel has a few surprises up her sleeve!