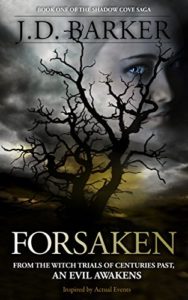 Synopsis: Book One of the Shadow Cove Saga
From the witch trials of centuries past, an evil awakens.
Inspired by Actual Events
Excerpt from the Journal of Clayton Stone – 1692
She was examined today without torture at Shadow Cove township on the charge of witchcraft. She said she was wholly innocent of the crime and has never in life renounced God. I watched as they brought her out. A poor, sickly thing, worn by her time behind the walls of her prison. Her bared feet and hands bound in leather, her clothing tattered to that of ruin. Despite such condition, her head was held high, her eyes meeting those of her accusers. She still refuses to provide her name so we remain unable to search baptismal records, nor has her family stepped forward to claim her as their own. We have no reason to believe she is anything but an orphaned child. I find myself unable to look at her directly in the moments preceding her trial. She is watching me though; with eyes of the deepest blue, she is watching me.
Thad McAlister, Rise of the Witch
When horror author Thad McAlister began his latest novel, a tale rooted in the witch trials of centuries past, the words flowed effortlessly. The story poured forth, filling page after page with the most frightening character ever to crawl from his imagination. It was his greatest work, one that would guarantee him a position among the legends of the craft.
But was it really fiction?
He inadvertently opened a door, one that would soon jeopardize the lives of his family.
She wants to come back.
At home, his wife struggles to keep their family alive. Secretly wondering if she caused it all…a deal she made long ago. A deal with the Forsaken.
My Rating: 5/5
My Review:
I am a big horror movie fan. The creepier it is ..the better. I also love books by Stephen King, who I believe is the master of horror books. Spine-tingling, sometimes gory and most definitely creepy. And then I read this book! JD Barker knows how to write horror!! I found this story to be eery, creepy, and frightfully good.
What I really enjoyed was the pace of the story…kept me hooked throughout. What I also found extremely clever was the story within a story. A hard concept to master correctly…and the author did not disappoint.
Admittedly, this book did not scare me to death…but I did peek under the bed a few times and got some shivers up my spine occasionally. The characters themselves were cleverly conceived. I had a picture of each one as I read and I enjoy that experience. Again, a rarity. I also pictured who would play each character should this book ever become a film…and it should!!
Without any spoilers, I suspect this is not the last we see of Shadow Cove or the characters within these pages and I am pretty glad about that.
This is a definite must read for anyone who likes witchcraft, horror and who is not afraid of a few bumps in the night. Highly recommend and definitely will be reading more books by this author. Watch out Stephen King…JD Barker is hot on the trail of horror writing and will most certainly give you a run for your money!!
BUY HERE: